Forex Commentary:
The euro fell for a third straight day on Friday, with more losses viewed as likely in the upcoming week, weighed down by disagreements about how to handle Greece's debt crisis and diminished expectations about euro zone rate hikes.
The euro posted its worst daily performance in a month on Friday and was down around 1.9 percent for the week, its weakest showing since mid-May.
The single euro zone currency fell as low as $1.43220 and was last at $1.43460, down 1.1 percent on the day. Against the yen, the euro fell as low as 114.940; it's lowest since May 27. It last traded at 115.235, down about 1.2 percent on the day
The ICE dollar index .DXY, which tracks the greenback against a basket of currencies, rose 0.9 percent to 74.844 and was up 1.5 percent this week, it strongest performance since mid-May.
Trading Setups / Chart in Focus:

EURUSD

The EURUSD fell substantially lower today; closing below the 21 day EMA and right on the horizontal support near 1.4350.
If price continues lower and breaks through support near 1.4350 next week, we could see a deeper fall towards support near 1.4000. Note the 8 / 21 day EMAs are starting to arch lower, indicating momentum may be shifting. We will continue to monitor the price action next week and alert traders of any obvious intra-day or daily price action setups as they occur.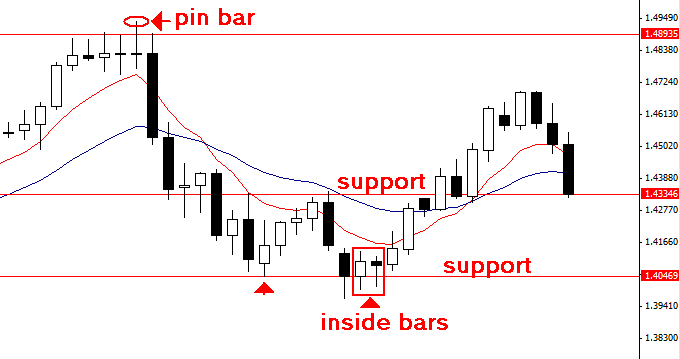 Check out my newest article on how to clean up your Forex trading with price action.
Other Markets:
On Wall Street today stocks continued losing ground and closed out their sixth week in a row of losses as signs of further slowing in the global economy paved the way for still more losses.
The Nasdaq erased all its yearly gains today and also posted its biggest weekly loss since August of last year. Sentiment deteriorated further today due to fear of soft Chinese growth and new worries about Greece's debt.
The Dow dropped 172.45 points, or 1.42 percent, the S&P 500 lost 18.02 points, or 1.40 percent, and the Nasdaq lost 41.14 points, or 1.53 percent.
Upcoming important economic announcements: 6/13/2011
All Day: Switzerland-France-Germany – Bank Holiday
10:00pm EST: China – CPI y/y
Tentative: Japan – Monetary Policy Statement
Tentative: Japan – Overnight Call Rate