Forex Commentary:
The dollar slipped Monday against the euro even as problems in Greece highlighted Europe's debt crisis. The yen and pound also were stronger against the U.S. currency.
The euro rose to $1.4412 from $1.4355 late Friday, but fell to a record low against the Swiss franc, which investors consider a safe haven currency. It tends to rise during periods of geopolitical tension or when investors worry about slowing global growth or whether Greece will run out of funds.
The U.S. government's failure to raise the debt ceiling before an August deadline, as well as worry that the U.S. economic recovery is slowing, has weighed on the dollar recently.
Trading Setups / Chart in Focus:
EURUSD
The EURUSD consolidated today, rotating modestly up on last Friday's down move. The pair seems to be in a transitioning phase right now with no obvious trend in place. We will keep an eye on the daily and 4hr charts watching for any obvious price action setups with the recent momentum. As of now there is nothing obvious to do but wait and see what develops. Support comes in near 1.4300 – 1.4350 and further below near 1.4000.
The AUDUSD is currently in a trading range between about 1.0775 – 1.0500. Price will need to break out of this trading range before we see another substantial directional move. Support below 1.0500 comes in at 1.0200. Resistance above 1.0775 comes in around 1.0900 and then at 1.1000.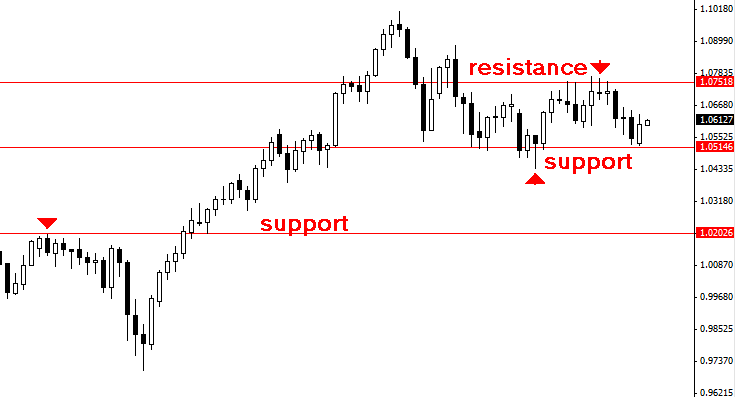 For a more in-depth analysis of the major forex currency pairs and price action analysis, please check out my Forex trading education website.
Other Markets:
On Wall Street today stocks moved sideways in what could be a temporary stall in the sell-off derived from increasing worries of another economic downturn.
The Dow lost 1.14 points, or 0.01 percent, the S&P 500 added 0.88 points, or 0.07 percent, and the Nasdaq lost 4.04 points, or 0.15 percent.

Upcoming important economic announcements: 6/14/2011
Tentative: Japan – BOJ Press Conference
4:30am EST: Britain – CPI y/y
8:30am EST: United States – Core Retail Sales m/m
8:30am EST: Unites States – PPI m/m
8:30am EST: United States – Retail Sales m/m
6:45pm EST: New Zealand – Core Retail Sales q/q
10:00pm EST: Australia – RBA Gov Stevens Speaks