Trading Setups / Chart in Focus:
EURUSD
The EURUSD moved lower early in today's session but reversed those losses as price found support near the previous event area around 1.4050. Price formed a bullish pin bar off this support today.
However, we would caution traders to note that price has been moving lower recently and the 8 and 21 day EMA's have just crossed lower, indicating momentum is becoming more bearish. We could however see a pop higher off today's pin bar into resistance near 1.4315 before moving lower again.
After a very nice move lower off Tuesday's pin bar, which myself and many of my members' profited off of, the GBPUSD has hit support near 1.6050 today and formed bullish rejection pin bar. This pin bar strategy is against recent momentum, however we could still see a move higher into value near the 8 and 21 day EMA's before price heads lower again.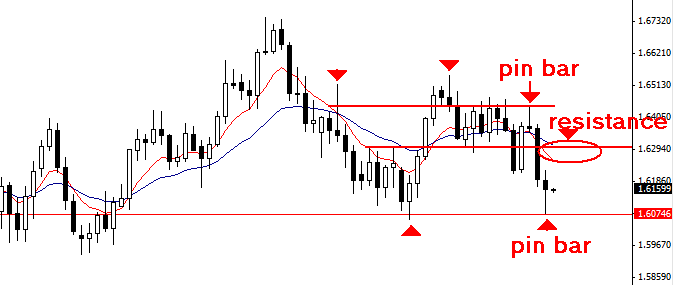 Check out this cool new article I just posted today: The Anatomy of How I Enter Price Action Forex Trades
Forex Commentary:
The euro fell to a three-week low against the U.S. dollar Thursday before bouncing back as more officials expressed confidence Greece will receive the funding it needs in the near term.
The euro EURUSD traded at $1.4197 in late North American trading, up from $1.4162 Wednesday. At one point during the day, it suffered its biggest percentage decline since March 2009 and fell to a three-week low of $1.4072
The dollar index DXY, which measures the performance of the U.S. unit against a basket of six currencies, reversed to 75.476, down from 75.630 late Wednesday.
Against the Japanese yen, the dollar USDJPY bought ¥80.58, compared with ¥80.95 late Wednesday.
The British pound GBPUSD fell to $1.6152 from $1.6174 late Wednesday.
Other Markets:
On Wall Street today stocks rose in what was volatile trading, uncertainty about Greece prevented investors from committing heavily to the market however.
The Dow added 64.25 points, or 0.54 percent, the S&P 500 gained 2.22 points, or 0.18 percent, and the Nasdaq lost 7.76 points, or 0.29 percent.
Upcoming important economic announcements: 6/17/2011
9:55am EST: United States – Prelim UoM Consumer Sentiment