Forex Commentary:
The euro dropped to a low of $1.4190 against the dollar in early trade today. It recovered, however, to stand little changed at $1.4302 in late trading in New York as European officials sought to reduce the chances of financial contagion spreading from Greece to other indebted countries on the periphery of the euro-zone.
The British pound made modest gains against the greenback today, as did the Swiss franc and Canadian dollar. The Australian dollar lost modestly to the greenback today, as did the New Zealand dollar. The dollar rose modestly against the Japanese yen.

Trading Setups / Chart in Focus:

EURUSD
The EURUSD formed an inside pin bar setup today. However, price is currently sitting just under a significant area of resistance around 1.4350 and the 8 and 21 day EMA's. We would need to see a close above this level for price to have a chance at a larger run higher.
For now, we will watch patiently and see what develops over the next 24hrs. A fakey setup from today's inside bar and rejecting resistance near 1.4350 could potentially form tomorrow. We will notify traders accordingly.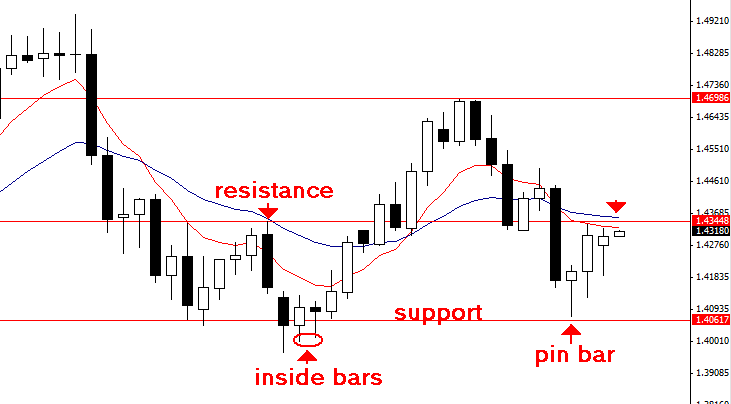 For a more in-depth analysis of the major forex currency pairs and price action analysis, please check out my Forex trading training website..

Other Markets:
On Wall Street today stocks moved higher as the latest development to reduce Greece's debt attracted buyers, however, low volume was a sign that the weakness may not be over yet.
The Dow added 76.02 points, or 0.63 percent, the S&P 500 gained 6.86 points, or 0.54 percent, and the Nasdaq added 13.18 points, or 0.50 percent.
Upcoming important economic announcements: 6/21/2011
4:30am EST: Britain – Public Sector Net Borrowing
5:00am EST: Euro-zone – German ZEW Economic Sentiment
8:30am EST: Canada – Core Retail Sales m/m
10:00am EST: United States – Existing Home Sales
6:45pm EST: New Zealand – Current Account