Trading Setups / Chart in Focus:

GBPUSD
The GBPUSD consolidated today and closed the day basically unchanged from yesterday. It looks like it's finding some support off 1.5950 though, and we could potentially see a rotation higher into value before this pair resumes moving lower.
We will watch the resistance layer between the 8 and 21 day EMA's for potential bearish price action trading setups in the coming days.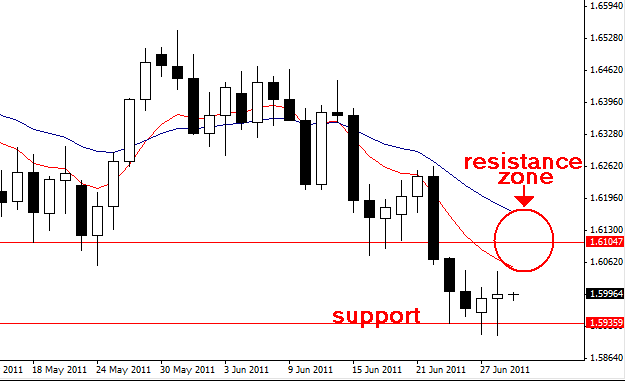 Check out this cool new blog post: Win at Forex Trading By Learning to Lose

Forex Commentary:
The euro rose on Tuesday as investors bet Greece would pass an austerity package needed to avert a debt default, though traders said uncertainty about a long-term solution would limit further gains in the currency.
The euro last rose to $1.4396. It hit a session high after the Portuguese government said it plans to be scrupulous in meeting terms of a bailout.
The dollar rose 0.4 percent to 81.12 yen, while it fell to a record low of 0.8276 Swiss francs

Other Markets:
On Wall Street today stocks pushed higher for the second day in a row over optimism about a solution to Greece's debit problems, however, volume was low which generally indicates sentiment is not strong.
The Dow added 145.13 points, or 1.21 percent, the S&P 500 gained 16.57 points, or 1.29 percent, and the Nasdaq added 41.03 points, or 1.53 percent.

Upcoming important economic announcements: 6/29/2011
5:30am EST: Switzerland – KOF Economic Barometer
7:00am EST: Canada – Core CPI m/m
Tentative: Euro-zone – Greek Gov Debt Crisis Vote
10:00am EST: United States – Pending Home Sales m/m
6:45pm EST: New Zealand – Building Consents m/m
9:00pm EST: New Zealand – NBNZ Business Confidence