rading Setups / Chart in Focus:
USDJPY
The USDJPY is showing signs of gaining bullish momentum, we can see the daily 8 and 21 EMAs have recently crossed higher and price is showing signs of "bottoming" off the horizontal support near 80.00.
There is some horizontal resistance near 81.25 that would need to be cleared before price can push substantially higher however. Note the small inside pin bar that formed on Monday just as the EMA's crossed higher.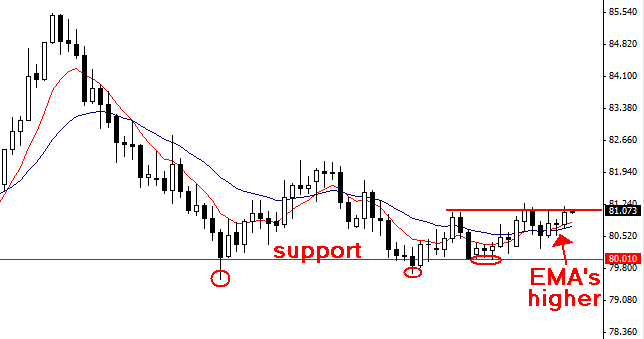 Check out this cool new blog post: Recent Pin Bar Forex Trading Setups

Forex Commentary:
The dollar rose against the euro, yen and pound Tuesday as investors sought safety in the world's most heavily traded currency. Worries about the economy in Europe and China also helped to push the dollar higher today.
In late trading Tuesday in New York, the euro dropped to $1.4410 from $1.4544 Monday. The dollar rose to 81.04 Japanese yen from 80.78 yen. The British pound fell to $1.6047 from $1.6096.
Against six of the world's most actively traded currencies, the dollar rose 0.6 percent.
In other trading Tuesday, the dollar rose to 96.29 Canadian cents from 96.09 Canadian cents Monday, but fell to 0.8404 Swiss franc from 0.8477 Swiss franc.

Other Markets:
On Wall Street today stocks closed a thinly traded session mostly flat as last week's rally took a breather. Analysts said light volume could imply more choppy conditions ahead.
The Dow lost 12.90 points, or 0.10 percent, the S&P 500 lost 1.79 points, or 0.13 percent, and the Nasdaq gained 9.74 points, or 0.35 percent.

Upcoming important economic announcements: 7/6/2011
3:00am EST: Britain – Halifax HPI m/m
8:30am EST: Canada – Building Permits m/m
10:00am EST: United States – ISM Non-Manufacturing PMI
6:45pm EST: New Zealand – GDP q/q
9:30pm EST: Australia – Employment Change
9:30pm EST: Australia – Unemployment Rate