Trading Setups / Chart in Focus:

EURUSD
The EURUSD formed a bullish pin bar strategy today. We can see the daily 8 and 21 EMA's are still crossed higher, so there is still some bullish momentum in this market. However, this market is also in a very awkward range-bound condition right now; with no clearly defined borders. We could see a move higher from the pin bar today, given its definition and size, if so keep in mind the next resistance comes in near 1.4580.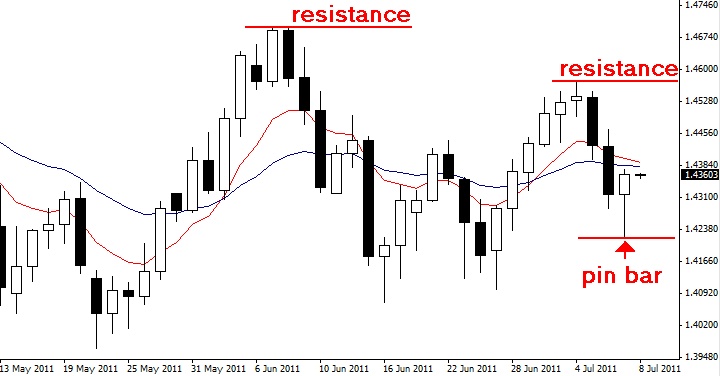 Check out this cool new article I just posted today: Can You Really Make A Living Trading Forex?

Forex Commentary:
The dollar gave up early gains against the euro Thursday after the European Central Bank boosted a key interest rate and its chief hinted that there would be more increases.
In late afternoon New York trade, the EURUSD traded at $1.4352, up 0.3 percent on the day and far above the session low of $1.4219 hit immediately after Trichet started his news conference.
The dollar rose against the Japanese yen and Swiss franc, which investors consider safe-haven currencies, after the Labor Department said fewer people in the U.S. applied for unemployment benefits last week.
The British pound fell to $1.5963 from $1.5982, while the dollar fell to 95.91 Canadian cents from 96.57 cents. The Australian dollar, the Scandinavian currencies and many emerging-market currencies also rose.

Other Markets:
On Wall Street today stocks pushed sharply higher on the back of improved labor market and retail sales figures, this came one day before the critical June payrolls report.
The Nasdaq notched its eighth straight day of gains on Thursday, gaining 8.3 percent over the last eight days.
The Dow added 93.47 points, or 0.74 percent, the S&P 500 gained 14 points, or 1.05 percent, and the Nasdaq gained 38.64 points, or 1.36 percent.

Upcoming important economic announcements: 7/8/2011
4:30am EST: Britain – PPI Input m/m
7:00am EST: Canada – Employment Change
7:00am EST: Canada – Unemployment Rate
8:30am EST: United States – Non-Farm Employment Change
8:30am EST: United States – Unemployment Rate
9:30pm EST: China – CPI y/y