Trading Setups / Chart in Focus:

Gold
Gold has pushed higher for 11 straight days now. We can see this impressive move higher was tipped off by an inside bar setup that formed at the event area near $1475.00. This was a clear price action entry into the broader / longer-term up-trend that provided a very low risk / high reward trading scenario.

Silver
Silver registered another very strong gain today, gaining about $1.30 an ounce over Friday's spot close. We can see a nice pin bar setup signaled this recent up move and we did discuss this pin bar in our commentary from last week, before it came off.
This is simple patient price action trading which is what I teach here at learn to trade the market. Support comes in near the previous breakout level around $39.00. Silver can be very volatile, but traders could look to get long on any rotations lower into support pending confirmation by bullish price action.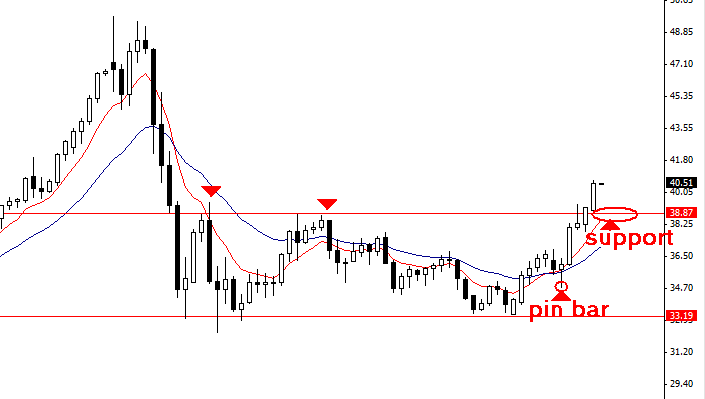 To learn more about Forex price action trading click here: Forex trading education.

Forex Commentary:
The euro fell against the U.S. dollar and hit a record low against the Swiss franc on Monday, while more losses could be in store on concerns the euro-zone debt crisis will worsen.
While a stalemate in Washington over raising the nation's $14.3 trillion borrowing limit was also high on investors' worry list, most were betting some deal will be reached. That helped support the dollar against major currencies.
The U.S. dollar also fell to a record low against the Swiss franc at 0.8034. It rebounded to 0.8176 as some dealers covered their short positions.
The franc continues to be the safe haven of choice as investors seek liquidity and relative safety on concerns about fiscal health in both Europe and the United States.

Other Markets:
On Wall Street today stocks fell lower as bank shares led the drop and investors grew increasingly frustrated over governments' inability to solve debt problems in the U.S. and Europe.
The Dow lost 94.57 points, or 0.76 percent, the S&P 500 lost 10.70 points, or 0.81 percent, and the Nasdaq dropped 24.69 points, or 0.89 percent.
Upcoming important economic announcements: 7/19/2011
5:00am EST: Euro-zone – German ZEW Economic Sentiment
8:30am EST: United States – Building Permits
9:00am EST: Canada – BOC Rate Statement
9:00am EST: Canada – Overnight Rate