Trading Setups / Chart in Focus:

GBPUSD
The GBPUSD inside pin bar that we discussed yesterday has led to a break above resistance and a large move higher today, as we discussed as a possibility in yesterday's commentary. We now see support near the 8 / 21 day EMA's and the horizontal level near 1.6200 – 1.6150.
Note the next major resistance comes in around 1.6450. Traders could look to buy pullbacks to support pending confirmation from bullish price action.
The EURUSD pushed substantially higher today breaking up past the short-term resistance at the pin bar high from last Thursday of 1.4280. We can see this recent thrust higher was tipped off by the bullish pin bar setup on Monday that showed rejection of the core support at 1.4000.
Traders could watch for price action buying opportunities on rotations back into the 8 / 21 day EMA. The next major resistance comes in near 1.4575.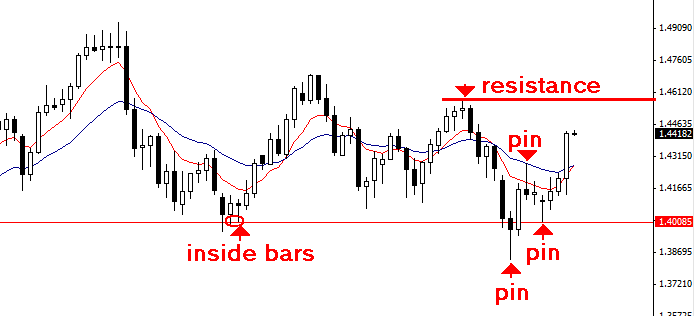 Check out this cool new Forex trading lesson: Learn To Trade Forex Like A Sniper…
Forex Commentary:
The euro rallied to a two-week high against the U.S. dollar on Thursday after euro zone officials agreed on measures to solve Greece's debt troubles, easing fears the country's debt crisis would spread.
The euro climbed as high as $1.44329, the highest level since July 6, before easing slightly to $1.4423 up about 1.3 percent on the day. It also rose about 0.7 percent to 1.1730 Swiss francs
The U.S. dollar hit a four-month low against the yen of 78.30, according to Reuters data, the lowest since joint G7 intervention in mid-March to stem a rise in the Japanese currency. The dollar was last down 0.6 percent at 78.35 yen.
"The pendulum is clearly swinging … toward Europe right now, whereas the U.S. is a little bit trailing behind in terms of waiting for positive news," said Vassili Serebriakov, currency strategist at Wells Fargo in New York.
Other Markets:
On Wall Street today stocks gained ground on the back of signs of progress on U.S. debt talks and solid action from Europe on its own debt issues.
The Dow gained 152.50 points, or 1.21 percent, the S&P 500 gained 17.96 points, or 1.35 percent, and the Nasdaq added 20.20 points, or 0.72 percent.
Upcoming important economic announcements: 7/22/2011
4:00am EST: Euro-zone – German Ifo Business Climate
7:00am EST: Canada – Core CPI m/m
8:30am EST: Canada – Core Retail Sales m/m