Daily Trade Setups Commentary: Dow and AUDUSD Hammer out some Pin Bars
Trading Setups / Chart in Focus:
Dow

The Dow made a false break of 11,777 support and hammered in a pin bar today at this level, is there a bounce on the cards into Friday? Time will tell, but it's one to watch though with 11,777 support holding.
The AUDUSD also showed rejection of lower prices today with buyers coming in to buy the pullback today. Note the general rejection of lower prices seen in both of these markets today, it shows that the show ain't over yet and there is still some buying interest out there.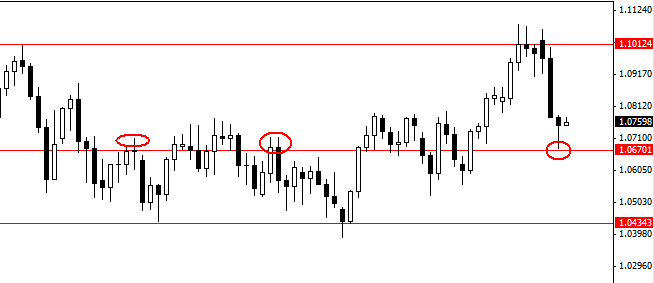 Check out this cool new Forex trading lesson: Trade Forex Like a Sniper…

Forex Commentary:
The euro gained against the U.S. dollar today, rising 0.9 percent to $1.4322. Analysts cautioned that persistent pressure on peripheral debt markets, especially in Italy and Spain, is likely to limit the euro's rise.
The dollar hit a session low of 76.78 yen and last traded at 77.02, flat on the day. It hit a more-than-four-month low of 76.29 yen on Monday, just shy of its trough of 76.25 set in March, which triggered coordinated intervention by major central banks.
The Swiss franc fell from record highs on Wednesday after the Swiss National Bank shocked the market with an interest rate cut, but the retreat should prove fleeting given mounting concerns about global growth. The SNB said the franc was "massively overvalued," keeping alive the prospect of intervention.

Other Markets:
On Wall Street today stocks rose, ending a seven-day losing streak, however, concerns about the economy kept investors nervous and trading was volatile.
The Dow added 29.82 points, or 0.25 percent, the S&P 500 gained 6.29 points, or 0.50 percent, and the Nasdaq gained 23.83 points, or 0.89 percent.
Upcoming important economic announcements: 8 /4/2011
7:00am EST: Britain – Asset Purchase Facility
7:00am EST: Britain – Official Bank Rate
Tentative: Britain – MPC Rate Statement
7:45am EST: Euro-zone – Minimum Bid Rate
8:30am EST: Euro-zone – ECB Press Conference
8:30am EST: United States – Unemployment Claims
9:30pm EST: Australia – RBA Monetary Policy Statement
Tentative: Japan – Monetary Policy Statement
Tentative: Japan – Overnight Call Rate