Trading Setups / Chart in Focus:
AUDUSD
The Aussie Dollar broke down through its trading range support today as the sell-pressure we discussed in Friday's commentary continued. We now see the breakdown area near 1.0400-1.0450 as a potential resistance sell-zone should any rotations higher occur this week. Watch this level closely for bearish price action confirmation on any rallies.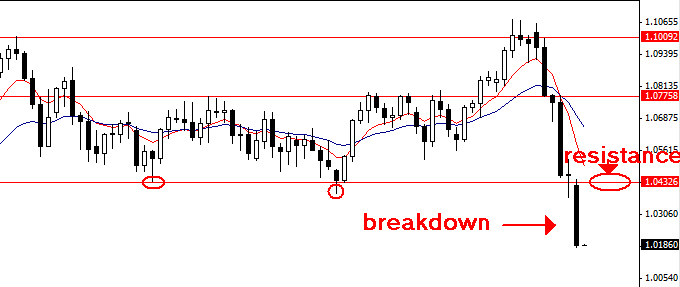 AUDJPY
The AUDJPY fell substantially lower today; we discussed the weakness of this chart and the long-tailed pin bar in Friday's members' commentary. Note how the pin bar rejected a "core" level in the market through about 84.50 as well as the 8 / 21 day EMA resistance layer.


Check out this cool new Forex trading lesson: Becoming A Successful Forex Trader One Trade at a Time
Forex Commentary:
The Swiss franc and the yen rallied on Monday as festering debt problems on both sides of the Atlantic and worries about a recession cooled investor confidence, stoking a fresh wave of flight-to-safety buying.
The euro fell against the U.S. dollar, retracing early gains after European Central Bank purchases of Spanish and Italian debt did little to alleviate concern the debt crisis is spreading to core countries in the region.
The fallout from S&P's downgrade of the United States exacerbated a rout in world stock markets, pushing them to their lowest in about a year and blindsiding investors already nervous about a slowing global economy.
The rush into the Swiss franc and the yen, as well as bonds, gold and other safe-haven assets, underscored the tremendous fear that has gripped investors.

Other Markets:
On Wall Street today U.S. stocks moved dramatically lower as the S&P 500 lost more than 6 percent for its biggest drop in nearly three years on the back of escalating fears of a recession worsened by the United States' loss of its triple-A credit rate.
The Dow closed lower by 634.76 points, or 5.55 percent, the S&P 500 lost 79.92 points, or 6.66 percent, and the Nasdaq moved down by 174.72 points, or 6.90 percent.

Upcoming important economic announcements: 8 /9/2011
4:30am EST: Britain – Manufacturing Production m/m
8:15am EST: Canada – Housing Starts
2:15pm EST: United States – FOMC Statement
2:15pm EST: United States – Federal Funds Rate