Trading Setups / Chart in Focus:

AUDUSD
The AUDUSD briefly pushed up into the 8 day EMA dynamic resistance level today before falling aggressively lower. We can see the downtrend is clearly intact here and we will be looking to sell any rallies into strength pending price action confirmation.
The USDCHF has moved dramatically lower since rejecting the core resistance level near 0.8500 back in early July. This chart goes to show the carnage that is taking place in the markets right now, this chart is just insane. The good thing about this volatility is that it gives us price action traders some great opportunities to make money.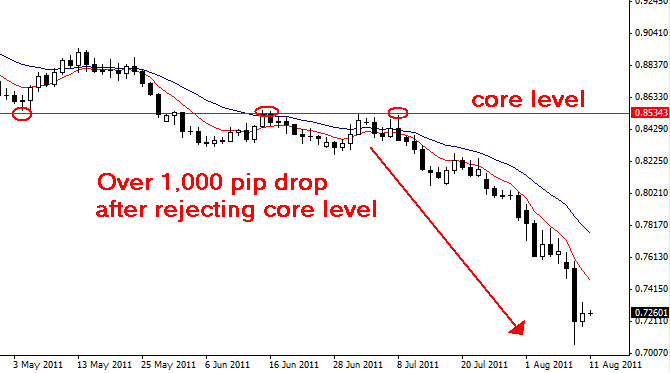 Check out this cool new Forex trading lesson: Becoming a Successful Forex Trader One Trade at a Time

Forex Commentary:
The euro declined against most major currencies on Wednesday and its outlook remained bleak on persistent global economic uncertainty and worries about euro zone banks with large exposure to peripheral debt.
"The outlook for the euro is not too good with the Dow Jones Industrials closing the way it has," said Alex Sinton, senior Dealer at ANZ Institutional in Auckland, New Zealand.
In late New York trading, the euro last traded down 1.2 percent at $1.41940 after sliding to a session low of $1.41620 on.
The euro lost 1.5 percent against the yen to 109.098 yen, after earlier falling to a roughly five-month low at 108.300.
The dollar fell 0.3 percent to 76.862 yen. It hit a session low of 76.347 on, not far from its record low of 76.25 touched in March and keeping investors wary that Japanese authorities may step in again to stem gains in the currency.

Other Markets:
On Wall Street today U.S. stocks fell lower again as the S&P 500 saw another 4 percent decline, triggered by worries that Europe's debt crisis could hurt French banks and infect the U.S. financial sector.
The Dow lost 520.29 points, or 4.63 percent, the S&P 500 dropped 51.81 points, or 4.42 percent, and the Nasdaq lost 101.47 points, or 4.09 percent.
Upcoming important economic announcements: 8 /11/2011
8:30am EST: Canada – Trade Balance
8:30am EST: United States – Trade Balance
8:30am EST: United States – Unemployment Claims