Trading Setups / Chart in Focus:

GBPUSD
The Sterling Dollar is still looking bearish after Friday's large reversal pin bar fakey strategy off 1.6600 resistance. We can see price tried to rally up past 1.6500 today but rejected this level and close the day lower around 1.6450.
We could see some more consolidation near current levels, but if price continues to stay contained under 1.6500 resistance we could see larger move lower later this week.
The EURUD is just painfully choppy and sideways right now. We can see an inside bar formed today, showing more consolidation within in this pair. Right now we are in hurry up and wait mode here until we get a clear breakout of this trading range or some obvious price action from the support and resistance boundaries of the range.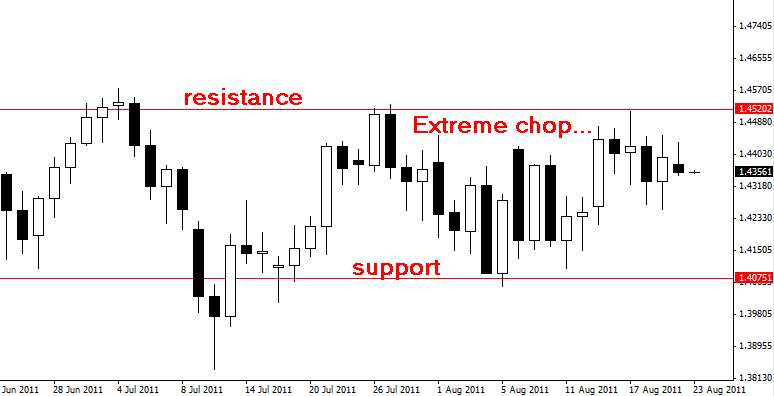 Check out this cool new Forex trading lesson: Over-trading is a Forex Trader's Biggest Mistake

Forex Commentary:
The U.S. dollar fell against some commodity-linked currencies on Monday as investors speculated the Federal Reserve could take new measures to boost the U.S. economy, lifting appetite for riskier assets.
The euro wobbled against the dollar for fear the European Union was moving too slowly to address its debt and banking crisis, while Swiss authorities tried to drive down the franc.
The Australian dollar was last up 0.2 percent at $1.0414. The New Zealand dollar rose 1 percent to $0.8241 while the greenback slipped 0.1 percent to 0.9894 Canadian dollar.
The dollar rose slightly against the yen but remained near its all-time low, last trading at 76.78 yen

Other Markets:
On Wall Street today U.S. stocks closed slightly higher after four weeks of losses as investors were cautious of making big bets without much reason for buying.
An early day rally led by large-cap techs and industrials lost steam as the trading day came to a close.
The Dow added 36.85 points, or 0.34 percent, the S&P 500 gained 0.29 point, or 0.03 percent, and the Nasdaq gained 3.54 points, or 0.15 percent.
Upcoming important economic announcements: 8 /23/2011
5:00am EST: Euro-zone – German ZEW Economic Sentiment
8:30am EST: Canada – Core Retail Sales m/m
10:00am EST: United States – New Home Sales