Trading Setups / Chart in Focus:
EURUSD
The EURUSD lost ground today for the fourth consecutive day. We can see price has rotated lower since making a false-break of resistance near 1.4500 – 1.4550 on Monday.
We are seeing support coming in near 1.4100 – 1.4000 and we will watch for daily price action strategies forming in this support area next week for a potential long setup in the context of this well-defined trading range, however, due to the recent sell-pressure we could also see a deeper move lower and so we would need to see an obvious reversal signal from support before considering any longs next week.
The AUDUSD rotated lower today after finding resistance at the 1.0770 horizontal level; we can see this level has been significant in the recent past. We can see 1.0600 support coming in just below, and we could see possible long signals forming here, until then we see sell pressure below 1.0770 resistance area.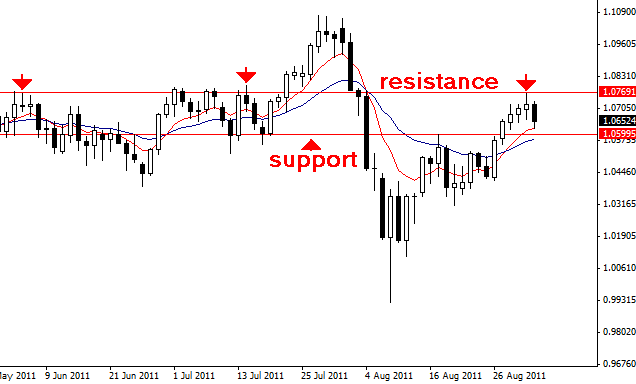 Check out this cool new Forex trading lesson: A Controversial Forex Lesson on Forex Money Management & Measuring Your Trading Performance
Forex Commentary:
The euro shed 2.1 percent against the U.S. dollar this week, its worst week since the week ended July 10, while the dollar rose 0.1 percent against the yen
The euro is now up 6.1 percent against the dollar in the year to date, while the dollar is down 5.4 percent against the yen so far in 2011.
In other Friday trading, the GBPUSD was up 44 pips, the AUDUSD was down 68 pips, and the Canadian dollar hit a one-week low on Friday after the U.S. jobs report for August came in far weaker than expected, reigniting fears about a global growth slowdown and sending investors to safe-haven assets.

Other Markets:
On Wall Street today U.S. stocks lost 2 percent after a jobs report that showed zero jobs were added in August. This fueled investors' concerns about the potential for another recession.
The Dow lost 253.16 points, or 2.20 percent, the S&P 500 dropped 30.46 points, or 2.53 percent, and the Nasdaq lost 65.71 points, or 2.58 percent.
Upcoming important economic announcements: 9/5/2011
5th-8th: Britain – Halifax HPI m/m
4:30am EST: Britain – Services PMI
9:30pm EST: Australia – Home Loans m/m