Trading Setups / Chart in Focus:
AUDUSD
The AUDUSD moved lower today after rejecting 1.0600 resistance and forming an obvious pin bar strategy on the 1hr chart. Note the exact gap fill that occurred when the 1hr pin bar formed. We discussed watching for intra-day sell signals showing rejection of 1.0600 in yesterday's members' commentary and many of our members caught this obvious intra-day price action setup.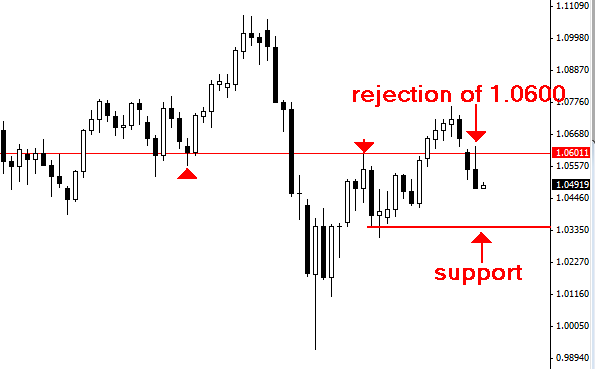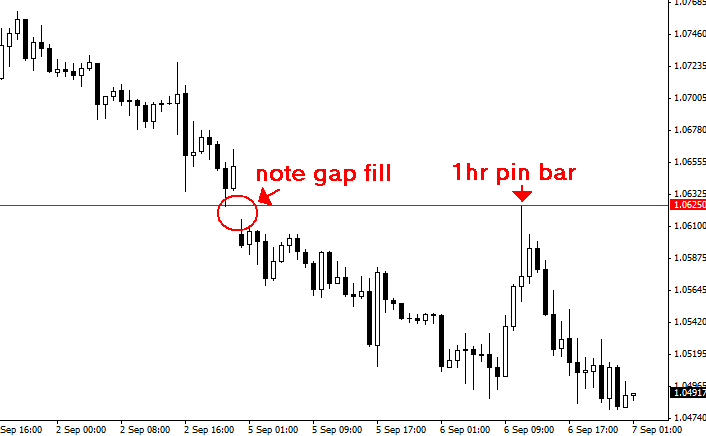 EURUSD

The EURUSD moved substantially lower today after rotating higher intra-day and rejecting the 8 / 21 day EMA resistance layer. We mentioned yesterday that a close below 1.4000 would be bearish, and price has closed around 1.3990 today. We see a clear bearish bias here and would look to sell rallies to resistance with price action confirmation. The next obvious support comes in around 1.3836.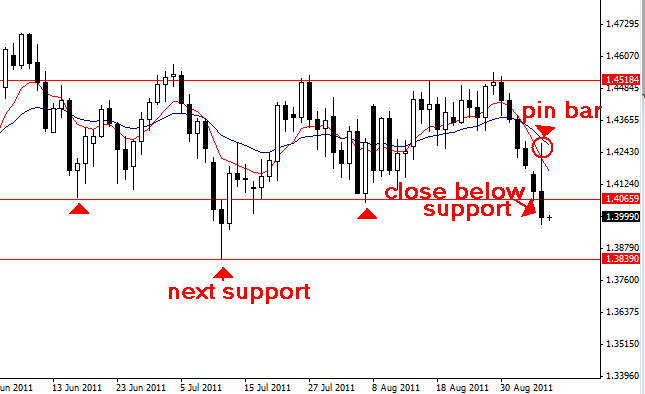 Check out this cool new Forex trading lesson: Don't Measure Profits in Percentages or Pips; Use "R" Instead

Forex Commentary:
The Swiss franc plunged nearly 10 percent against the euro on Tuesday, posting its worst day ever, after Switzerland's central bank jolted markets by setting a limit on how much the franc can gain.
The U.S. dollar rose as high as 0.86250 franc and was last up 9.4 percent at 0.86150 franc, snapping a four-day drop against the franc.
Despite the euro's steep gains against the Swiss franc, the single currency fell against the dollar, down 0.7 percent on the day at $1.39910 and below 1.4000 – 1.4050 support. It fell to a low of $1.39720.
The dollar rose against the yen on speculation the SNB's measures could encourage Japanese authorities to intervene in coming days. The dollar was up 1.0 percent at 77.690, well off a record low of 75.941 struck on Aug 19.

Other Markets:
On Wall Street today, stocks lost ground for a third day in a row on fears that Europe has failed to properly tackle its debt crisis, this prompted worries that the market is headed to new lows for the year.
The Dow lost 100.96 points, or 0.90 percent, the S&P 500 lost 8.73 points, or 0.74 percent, and the Nasdaq lost 6.50 points, or 0.26 percent.

Upcoming important economic announcements: 9/7/2011
Tentative: Japan – BOJ Press Conference
7th-8th: Britain – Halifax HPI m/m
4:30am EST: Britain – Manufacturing Production m/m
9:00am EST: Canada – BOC Rate Statement
9:00am EST: Canada – Overnight Rate
10:00am EST: Canada – Ivey PMI
9:30pm EST: Australia – Employment Change
9:30pm EST: Australia – Unemployment Rate