Trading Setups / Chart in Focus:
EURUSD
The EURUSD has found some support near 1.4000 today. We are still slightly bearish biased here and would watch the 8 / 21 day EMA resistance layer as a potential selling-zone if we get any obvious bearish price action strategies forming in this area.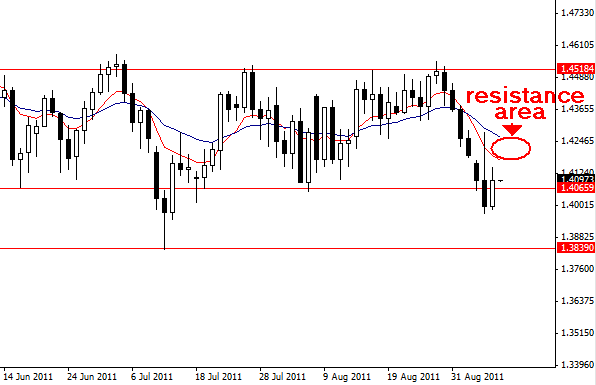 Check out this cool new Forex trading lesson: Don't Measure Profits in Percentages or Pips – Instead Use "R"

Forex Commentary:
The euro rallied on Wednesday as sovereign debt worries subsided temporarily after a German court backed the country's role in euro zone bailouts, though gains may be limited ahead of a European Central Bank meeting.
In early afternoon trading, the euro was up 0.6 percent on the day at $1.4059, off a session high of $1.41504 hit immediately after the German Constitutional Court's ruling. The euro though was still down 2.0 percent this month.
Commodity currencies also rose, with the Australian dollar up 1.3 percent at US$1.0636, buoyed by a report showing the Australian economy grew at its fastest pace in four years last quarter.
The dollar, meanwhile, was down 0.4 percent against the yen at 77.300 yen

Other Markets:
On Wall Street today, stocks rose more than 2 percent, ending three days of losses after Germany's top court paved the way for Berlin's participation in bailouts that might help Europe's debt crisis.
The Dow added 275.56 points, or 2.47 percent, the S&P 500 gained 33.38 points, or 2.86 percent, and the Nasdaq added 75.11 points, or 3.04 percent.
Upcoming important economic announcements: 9/8/2011
7:00am EST: Britain – Asset Purchase Facility
7:00am EST: Britain – Official Bank Rate
Tentative: Britain – MPC Rate Statement
7:45am EST: Euro-zone – Minimum Bid Rate
8:30am EST: Canada – Building Permits m/m
8:30am EST: Canada – Trade Balance
8:30am EST: Euro-zone – ECB Press Conference
8:30am EST: United States – Trade Balance
8:30am EST: United States – Unemployment Claims
1:00pm EST: United states – Fed Chairman Bernanke Speaks
10:00pm EST: China – CPI y/y