Trading Setups / Chart in Focus:

Gold
The gold pin bar setup that we first discussed in our members' commentary on Tuesday of this week has come off nicely into the end of the week. We can see this setup was very confluent because it was in-line with the near-term bullish momentum and it had both horizontal support at $1700.00 and the dynamic support of the 8 / 21 daily EMAs. Many of our members' traded this setup and discussed it before hand in the forum. This is a prime example of how to successfully trade the daily charts.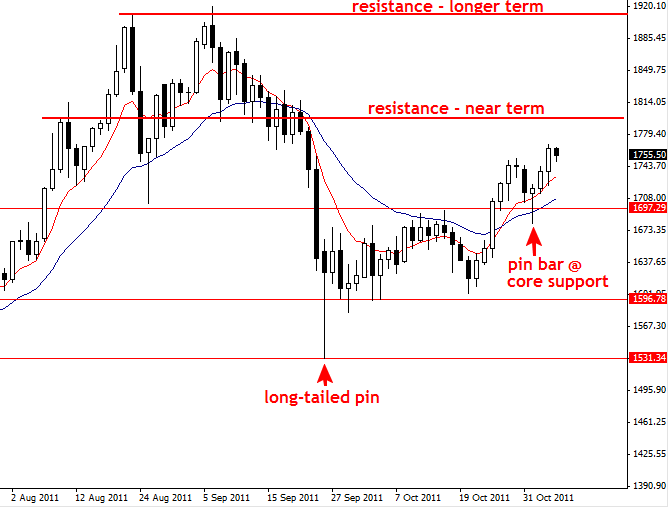 EURUSD

The EURUSD held the line of support at 1.3650 – 1.3600 this week. We can see price essentially just consolidated above this support level this week after Monday's big sell-off from 1.4250. Next week we see near-term resistance near 1.3900 – 1.3950 coming into play, price will need to move above this level to have a chance at re-testing the core level at 1.4250. Otherwise, more chop sideways is possible until price pushes above the near-term resistance or breaks out below support near 1.3600.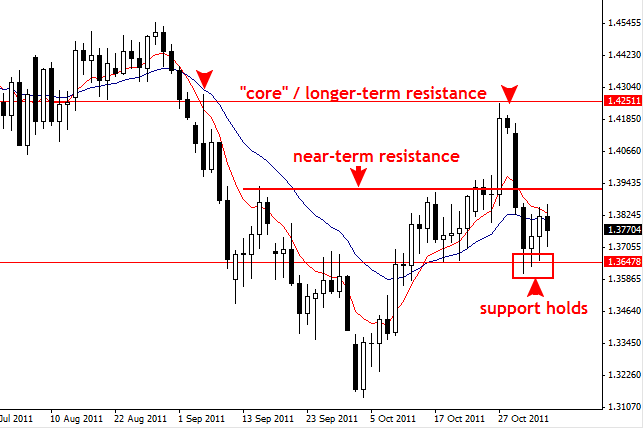 Check out this cool new Forex trading lesson: The Art of Trading – Part 1
Forex Commentary:
In the currency markets today, the U.S. dollar gained modest ground against the other majors on the back of increased estimates from the U.S. Labor Department about new jobs. Continued pessimism over the euro-zone debt crisis also worked to push the greenback higher today.
The EURUSD moved to $1.3770 today, from $1.3822 on Thursday.
The GBPUSD was essentially unchanged on the day, as was the NZDUSD. The U.S. dollar gained marginally on the yen and more significantly on the Swiss franc and Canadian dollar, the greenback was also higher against the Australian dollar today.
Other Markets:
In the U.S. markets today, stocks lost ground and put an end to four weeks of consecutive gains. Instability in the euro-zone debt crisis plans reemerged and investors anticipated a confidence vote in Greece after the New York market close. The inability of European officials to make any real progress on a bailout plan has put investors on edge in recent days.
The Dow lost 61.23 points, or 0.51 percent, the S&P 500 dropped 7.92 points, or 0.63 percent, and the Nasdaq lost 11.82 points, or 0.44 percent.

Upcoming important economic announcements: 11/6/2011
8:30pm EST: Australia – ANZ Job Advertisements m/m
11/7/2011
7th-8th: Britain – Halifax HPI m/m
8:30pm EST: Australia – Trade Balance