GOLD:

The fakey / pin bar setup we discussed in the commentary from 8/10 has pushed higher today breaking the mother bar high and triggering the fakey setup.
Traders who entered on the retracement yesterday should have gotten a very solid entry with a risk to reward of at least 1:2. This setup came very near to breaking past the low of the pin bar candle but never did. This is why it is best to let the market take you out and not exit on emotion.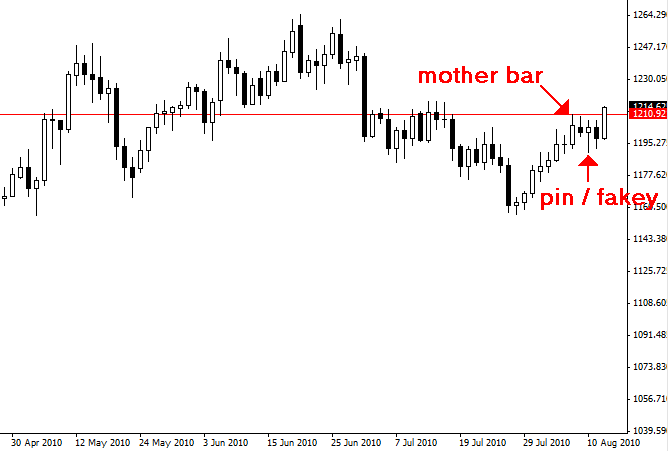 Trading off price action with a set and forget trading style is one of the most stress free and accurate ways to trade the forex market.
NZDUSD:
Check out the great pin bar setup at resistance that we discussed in the NZDUSD commentary from 7/29. Price retraced after we posted this commentary but provided a 2nd entry opportunity for those traders that missed the initial sell signal.
Price has since come off aggressively to the downside netting traders some serious pips. This setup was posted up in our member's daily commentary the very day it closed out, giving our members first notice to yet another high-probability price action setup.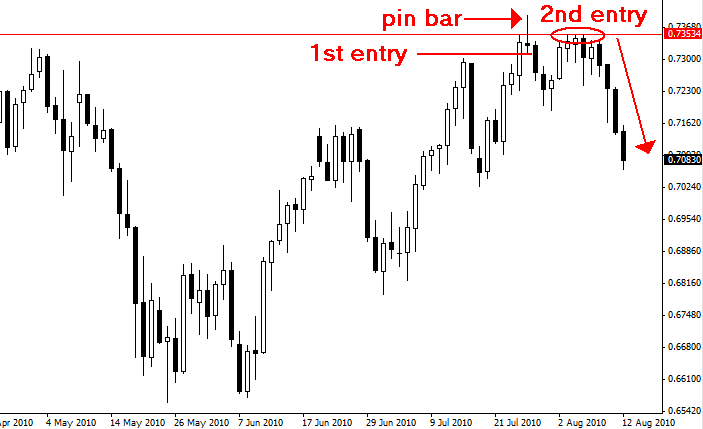 Learn more about how to properly enter pin bar setups on retracements of the pin bar in my forex course.
Commentary:
The U.S. dollar was mixed today one day after it experienced significant strength. The greenback gained modestly on the Japanese yen, British pound, Euro, Australian dollar, and New Zealand dollar, while losing modestly to the Canadian dollar and Swiss franc.
On Wall Street today stocks were lower for the third day in a row as an unexpected rise in jobless claims and a sobering outlook from Cisco rattled investors nerves and confidence in the economic recovery.
The Dow lost 58.88 points, or 0.57 percent, the S&P 500 dropped 5.86 points, or 0.54 percent, and the Nasdaq dropped 18.36 points, or 0.83 percent.