The gold inside bar setup discussed in yesterday's commentary has come off to the upside today. This setup is just one of a few recent gold setups that have paid off very nicely for traders interested in price action trend trading with gold.
We see resistance coming in near 1260 – 1265 in this market.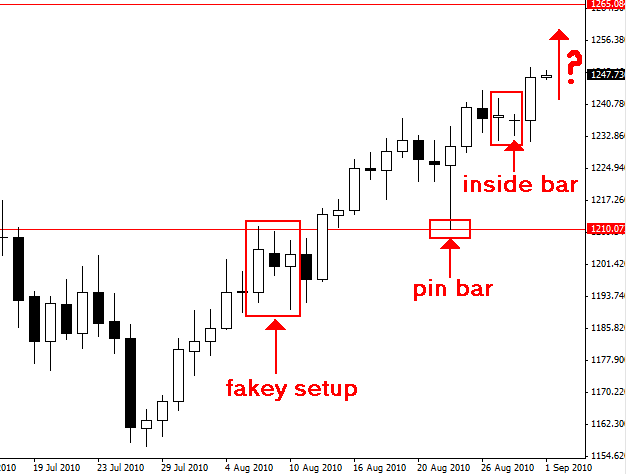 For a more in-depth analysis of the major forex currency pairs and price action analysis, please check out my forex trading training course.
GBP USD:
In our member's daily forex commentary we posted up the double – pin bar setup in the chart below as it closed out last Thursday. Savvy price action traders following our daily member's commentary could have netted some serious pips as this setup has come off nicely to the downside.
Note also the counter-trend pin bar that did not work out very well. A clear example of why trading price action with the trend is desirable.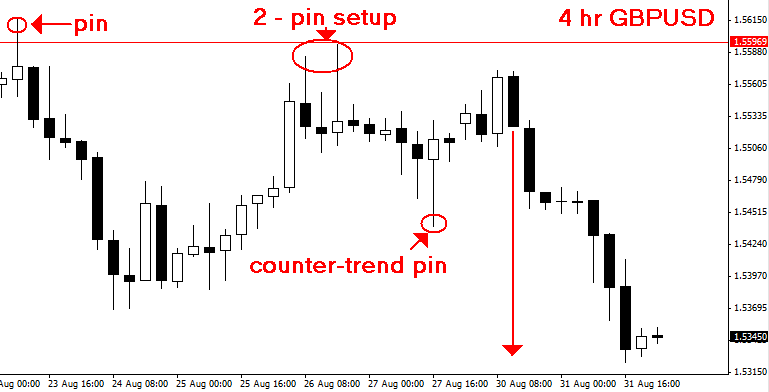 Commentary:
Investors bought up the safe haven Japanese yen once again today on the back of growing fears of a double-dip U.S. recession. The Japanese yen neared a 15-year peak against the dollar today.
Gold also saw a strong push to the upside today as investors flocked to its relative safety. Oil prices which are viewed as a proxy for the global economy, moved lower by nearly 4 percent today.
The Dow squeaked out a 4.99 point gain today, or 0.05 percent, the S&P 500 rose 0.41 points, or 0.04 percent, and the Nasdaq lost 5.94 points, or 0.28 percent.