The AUDUSD is carving out a trading range between about 0.9200 and 0.8850-0.8770. This market is likely to continue bouncing between these levels for the time being.
We would look for price action setups forming at or near these levels before taking any positions. A decisive break above 0.9200 or below 0.8770 would likely lead to stronger directional moves.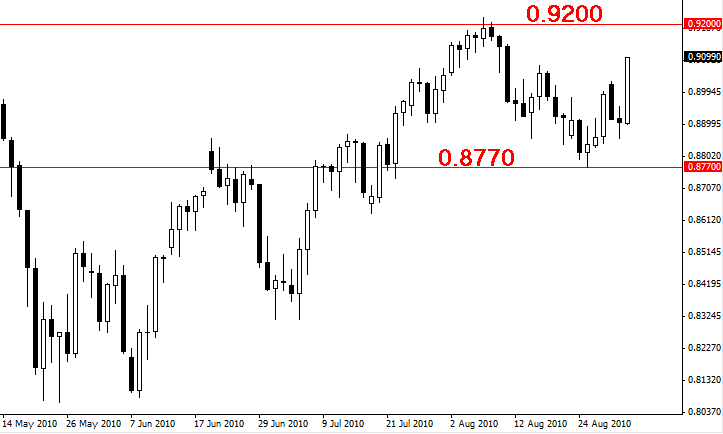 For a more in-depth analysis of the major forex currency pairs and price action analysis, please check out my forex trading training course.
Commentary:
The U.S. dollar weakened today against most of the other majors as risk appetite improved. However, the other safe haven currencies like the Japanese yen and Swiss franc also weakened, even more so than the dollar.
The commodity currencies strengthened dramatically today, with the Australian dollar, New Zealand dollar, and Canadian dollar all posting significant gains against the other majors.
The Dow rose 233.18 points, or 2.33 percent, the S&P 500 rose 28.40 points, or 2.71 percent, and the Nasdaq added 56.50 points, or 2.67 percent.