The GBPJPY formed an inside bar today just above support near 131.50-132.00. We can see in the chart below that this is a very significant level that has held strong numerous times in the past. To the upside we see resistance coming in around 135.00
Inside bars often will form at major swing points like the support level in the chart below providing great risk to reward opportunities.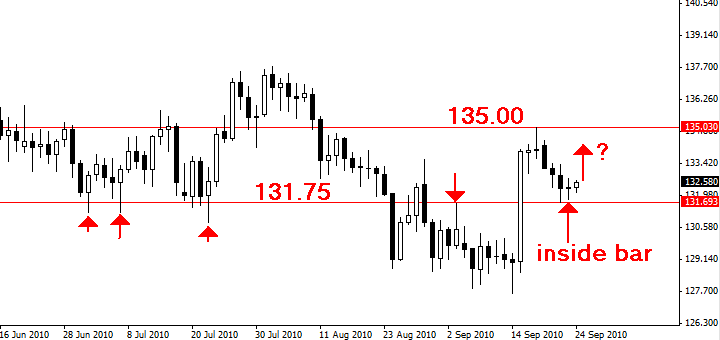 For a great new article about how to improve you forex trading success click here: How to Improve your Forex Trading Success.
For a more in-depth analysis of the major forex currency pairs and price action analysis, please check out my forex trading training course.
Commentary:
The U.S. dollar reclaimed some of its recently lost ground today against the other majors. The greenback gained modestly on the Australian dollar, Euro, New Zealand dollar, and Canadian dollar, while losing modest ground to the other majors.
Gold climbed to near $1,300 an ounce today, and ended higher for the fourth day in a row.
The Japanese yen gained ground against the other majors today and the USDJPY moved to its lowest level since last week's intervention.
The Dow lost 76.89 points, or 0.72 percent, the S&P 500 dropped 9.45 points, or 0.83 percent, and the Nasdaq lost 7.47 points, or 0.32 percent.