Gold:
Gold stormed higher today, breaking past $1340.00 an ounce as the inside bar setup from yesterday broke to the upside and injected yet more fuel into this run away bull trend.
Take a look at the daily chart below of gold, notice how many excellent price action setups formed within this trend that price action traders could have profited from handsomely (hindsight is a wonderful thing, let's just hope you got on some of these setups!). While we do acknowledge the fact that today's chart is taking advantage of hindsight, we have discussed some of these gold price action setups in recent commentaries over the past couple months, in particular our recent discussion of a fakey setup in gold.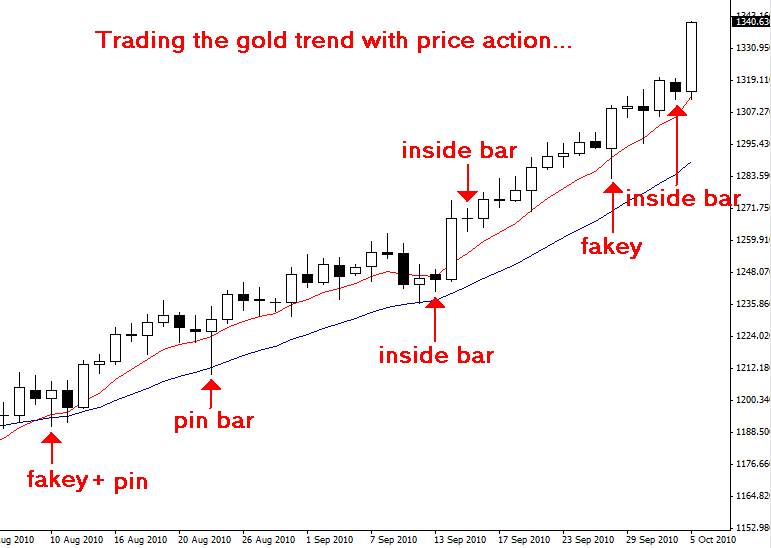 For more information on trading price action in the gold market click here: Price action trend trading with gold.
AUDJPY:
To recap yesterday's commentary, the AUDJPY did end up rotating lower but didn't quite make it to the weekly support near 79.50, instead the currency pair pushed into the recent daily support near 79.80 before rejecting these lower prices and forming a bullish pin bar to close the day.
The bias looks positive until or if price rotates down past 79.80, the AUDJPY is showing signs of having the potential to push up to resistance near 81.40 and possibly beyond.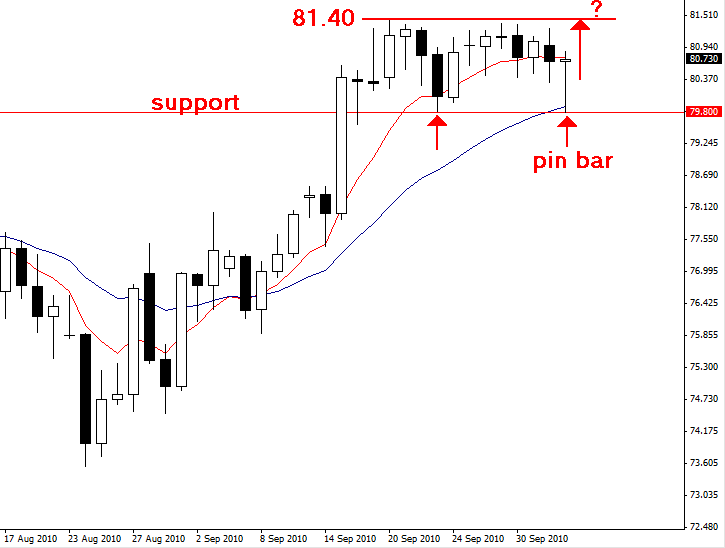 For a more in-depth analysis of the major forex currency pairs and price action analysis, please check out my forex trading course.

Commentary:
The U.S. dollar fell broadly today after the Bank of Japan surprisingly cut interest rates which worked to fuel speculation that other countries will take additional steps to give fresh fuel to the global economic recovery.
Gold made another record high today as the precious metal moved past $1,340 an ounce, oil moved to a fresh 2-month high on the back of a much weaker U.S. dollar. Copper also pushed higher, hitting its highest level since July 2008.
The euro moved to its highest level since last February against the U.S. dollar over concerns that more quantitative easing in the U.S. could further weaken the dollar.
Just before the U.S. stock market close the Dow was up 183.08 points, or 1.70 percent, the S&P 500 was up 22.44 points, or 1.97 percent, and the Nasdaq jumped 50.94 points, or 2.17 percent.