The USDJPY hit a new multi-year low today as it fell to 82.75 before closing around 82.92. There is a strong support coming into play around current levels near 82.90. However, this market is looking quite bearish at the moment.
The trend is currently down in the USDJPY and as such strength remains a sell. The bearish pin bar setups that have formed recently on this daily chart of the USDJPY add further weight to the bearish bias of this chart.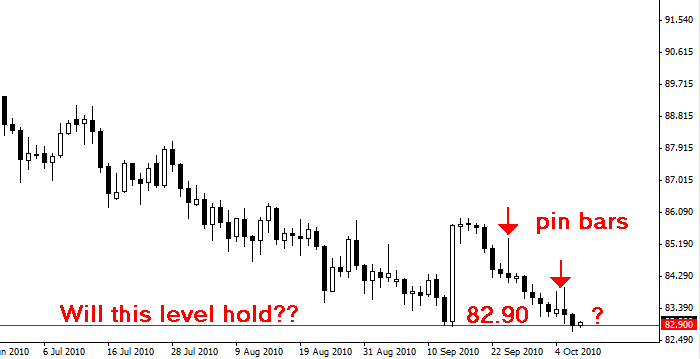 For a more in-depth analysis of the major forex currency pairs and price action analysis, please check out my forex trading course.
Commentary:
The U.S. dollar continued to weaken today, although at a slower pace than what we saw on Tuesday in the currency markets.
The greenback held its ground against the British pound as the GBPUSD ended the day unchanged, however the U.S. dollar lost to the rest of the major currencies. Gold strengthened yet again today, moving to just under $1350.00 an ounce.
The Dow rose 22.93 points, or 0.21 percent, the S&P 500 added 0.78 points, or 0.07 percent, and the Nasdaq lost 19.17 points, or 0.80 percent.