ETF's are increasingly popular but they have had limited exposure in current 401K plans. However, their low expense ratios are very appealing as is their liquidity or lack of restrictions. In this article, we are going to examine the
 ShareBuilder 401k
plan that is popular with small business owners. 
The final measure of success of a plan is the risk adjusted return. In order for this to be achieved, the plan must have good funds in a variety of asset classes. In a previous article we established the benefit of having four or more (six is desirable) asset classes represented.
 
Sharebuilder offers 401(k) plans for any office size from one person shops to growing business with 250 or more employees, ShareBuilder 401k from ING Direct delivers all the latest features like auto-rebalancing, auto-enrollment and Roth 401(k). Setting up a 401(k) with ShareBuilder 401k takes just 10-20 minutes online.

Sharebuilders 100% index-based approach reduces fund expenses and fees and offers 15 well known Exchange-Traded Funds (ETFs) and a money-market fund.  The fund line-up covers US equities, International Equity, Emerging Markets, Real Estate, and Fixed Income.

In addition, Sharebuilder offers  five model portfolios from Stable to Aggressive. In this instance, the balanced portfolio was selected and will be compared with moderate portfolios created by MyPlanIQ for Strategic and Tactical Asset Allocation.

The Sharebuilder balanced portfolio as of July 2010 comprises:
 
MyPlanIQ will use a five asset class portfolio. With a moderate rating (fixed income 40%), this is similar to the balanced moderate model portfolio offered by Sharebuilder. The Strategic Asset Allocation moderate portfolio comprises:
 
The TAA portfolio changes with market conditions and as of July 2010 comprises
Note that the Tactical Asset Allocation is heavily weighted towards fixed income as a reflection of the current volatility in the market. The asset class weightings change on a monthly basis depending on the price momentum of each of the asset classes.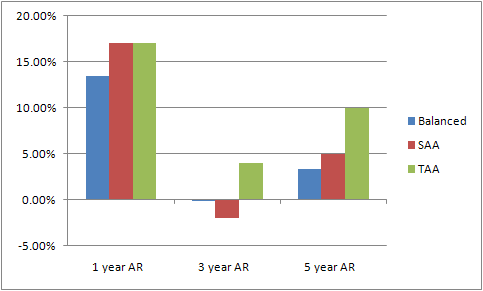 Each of the portfolios exhibit different returns performance. It should be noted, however, that 401K plans are long term in nature and so the 5 year AR is the most meaningful.

What are the takeaways?
401K plans based on ETF's are available and provide a low cost and effective retirement alternative
Increasingly ETF's play a central role in retiirement plans. You should push your benefits department to increase the number of ETF's in your plan.
Having  five asset classes delivers better results
While there is continued volatility in the market, a dynamic portfolio clearly improves returns
Retirement is for the long haul and so it's important to build the right portfolio based on the longer term returns
Disclosure:
No positions