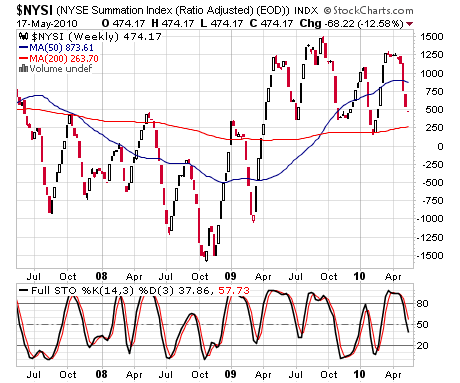 The McClellan Summation Index is one of my favorite indicators to let me know where I am in the trend of things.  Is the trend getting stronger?  Weaker?  On vacation?
Check out the configuration of the indicator & moving averages in mid-2007.  The indicator broke below both MA, then rallied back to touch the blue & red lines. This divergence point was the exact high of a multi-year rally!
In early 2009 the indicator broke above both MA, then swooned into a divergence point in March 2009.  A strong rally ensued.
In April 2010, we see an obvious divergent top, but no penetration of MA.  The uptrend is still intact, but weakening.
My trading rule is, "Trade with the the Trend. If it is UP, buy dips (only), then liquidate at minor tops such as this."  So, guess what?  I'm in cash waiting for another signal to buy.
The Buy signal will be when the Full STO crosses up and the red candles turn white again.
I look forward to these resting periods from market activity.  I can recharge my personal psychological batteries while I sit on the sidelines watching the carnage to other people's portfolios.