PayTheTolles Stock Market Blog
Welcome to my stock market blog, where you will find my current thoughts on the markets.  Items on today's agenda are the VIX, Oil Prices, Gold Prices.
VIX
The volatility index is a common index used for measuring the implied volatility on the S&P 500 index options that has been mentioned on numerous occasions over the past few weeks. Higher values indicate a more volatile market, which results in higher priced options.  The VIX has been around since 1993, and had its formula modified to the one currently used in 2003.  The historical average of the VIX dating back to 1990 is around 20. The volatility index closed on Friday at 31.24, which is a far shot from its October 24, 2008 all-time high of 89.53.  To me a VIX above 40 seems fairly high.  Over the past 10 years, there are only a few times that the VIX went above 40 other than the six month stretch from October 2008 – April 2009.  I am looking for volatility to ease up some over the next few weeks.  Be sure to keep a close eye on what is going on in the Euro zone because it will be a key determining factor in near term volatility.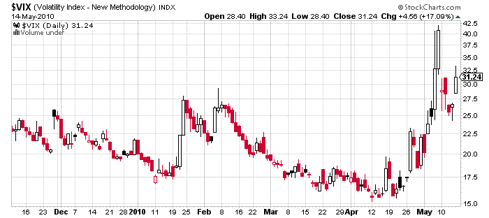 Oil Prices
Oil prices have fallen to their lowest level in the past three months.  Crude oil has been hurt by the strengthening US dollar as well as an increase in inventories as reported on Wednesday.   The key price point to watch for in crude is $70.  As shown in the graph below, the price of crude oil bounced off of the $70 price point back in December.  It came close to the $70 range again in February.  Will we see a triple bottom in crude oil?  If so, triple bottoms are reliable buy signals and could be an area for profit.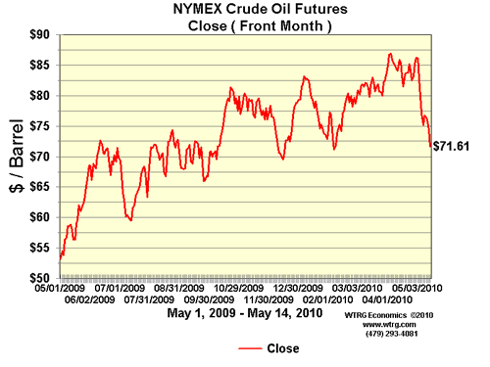 Gold Prices
A great deal of attention has been placed on gold recently.  Investors worried about Greece and Europe have been plowing money into the precious metal sending Friday's close to $1232.60 per ounce.  Gold and the US dollar are no longer seeing the inverse relationship that we have experienced over the past while.  It appears that both gold and the US dollar have been attracting scared money.  My main cause for concern is that all of the crackers on CNBC have been drawing attention to the large increase in gold prices and a potential bubble.  If you are in gold right now, I suggest that you take some profits off the table.  If you do not currently own any gold, I advise that you wait for a pullback before establishing any position.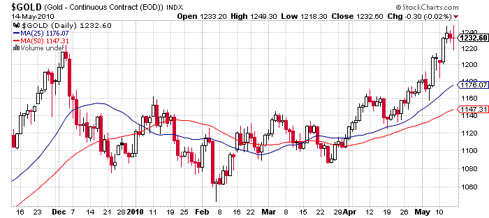 More updates to follow...

Disclosure:
No positions