I have posted two charts here of the Dow Jones. One chart captures the 19th October fall of 1987 when the Dow crashed 22% and the other one captures the fall of 6th May 2010 when the Dow crashed 5%, however, within a matter of 20 mins.
The falls are similar in the sense that each was caused due to the market 'fad' prevalent at that time.  The 1987 crash was blamed on program trading. The 2010 crash is blamed on high frequency trading. In the former case no proper cause has been identified and considering the statements coming from the SEC and NYSE no proper cause is going to be identified in this event too. So the bottom line for both the crashes is, they happened. Just happened.
And that is why I am making an attempt to compare the behavior of the markets after each of these events occurred.
After the 1987 crash the markets continued to trade in the lower half of the range for a extended period of time (3 months). However, the 2010 event was of much lesser magnitude, except that it occurred in a much shorter span of time and it's been just a couple of days since that event. But from the charts we see that the markets are trading in the upper half of that day's range. The Close for the Dow on 6th May was 10520. Baring the next two days immediately following the event in which this level was breached, the Dow took support at 10520 on 14th May.
This is just to see if the market continues to trade in the range from 10520 to 10900. And I guess this will be validated/invalidated on Monday itself. If the Dow does hold the level of 10500 then we could assume this hypothesis to be proved true for the time being and trade the Dow for an upmove to 10900.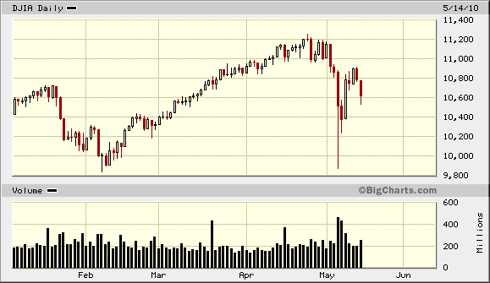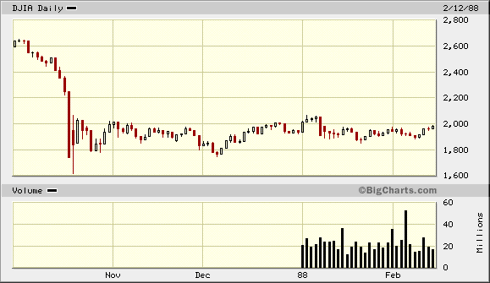 Disclosure:
No positions
Disclosure:
No Positions