Summary
We discuss Alnylam Pharmaceuticals, Scynexis, Galpagos and Global Blood Therapeutics.
U.S. economic data released today was mostly strong, including monthly ISM non-manufacturing index (September), PMI services index (September) and Gallup job creation index (September), all of which exceeded expectations.
Alnylam (NASDAQ:ALNY), which we discussed as a potential competitor to Intellia (NASDAQ:NTLA) and Editas (NASDAQ:EDIT) suffered a significant set-back today. The stock fell more than 40% after-hours after the company decided not to pursue with further clinical development of rivusiran, its experimental inverse RNA therapy for hereditary TTR amyloidosis with cardiomyopathy. The reason was reports of peripheral neuropathy in the drug arm and some signal of increased death rate in the treatment arm. The company will still continue the development of patisiran in hereditary TTR amyloidosis with neuropathy. Intellia Therapeutics is also targeting hereditary TTR amyloidosis using its CRISPR/Cas9 gene editing therapy. Alnylam's product candidates are in phase 3 and so the company has time-lead over Intellia in this indication. The set-back could be positive for Intellia. We will look into more details of the on-going situation with Alnylam, which has other products in development, including hemophilia, porphyrias, complement mediated disorders, etc. Alnylam also has a huge cash pile of $856 million.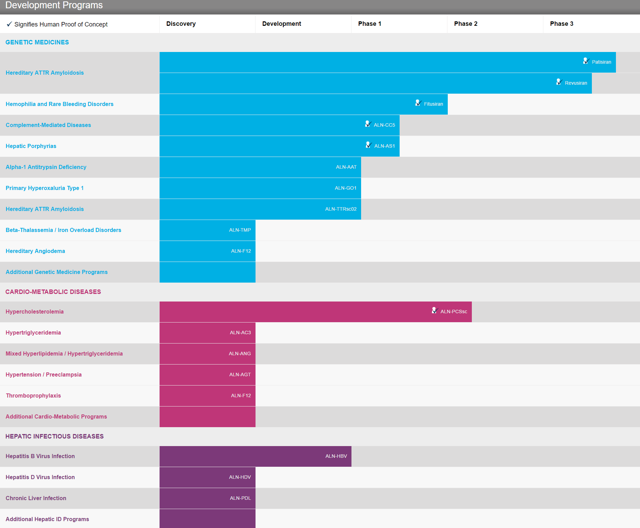 Figure 1: Alnylam R&D pipeline
Scynexis (NASDAQ:SCYX) had good news after-hours (stock was up 20%). The company announced that SCY078 was better than fluconazole in treatment of vulvovaginal candidiasis (VVC), a common fungal infection with frequent relapses (phase 2 trial). There was much higher cure rate after 4 months of followup in the drug arm compared to control and the relapse rate was also much lower. In another phase 2 study, SCY078 was effective as a step-down therapy after IV echinocandins in patients with invasive Candida infections. The company also announced further funding with closing of a 4-year $15 million term loan.
Gilead (NASDAQ:GILD) and partner, Galpagos (NASDAQ:GLPG) announced that they will advance Galpagos' JAK1 inhibitor filgotinib to a phase 3 trial in Crohn's disease and a phase 2/3 trial in ulcerative colitis.
Global Blood Therapeutics (NASDAQ:GBT) was down today after some bearish news including some concern over the efficacy of the company's experimental therapy in sickle cell disease. We will look for more details.
A subscriber-only report with DCF valuation on Editas Medicine (NASDAQ:EDIT) was posted today in our premium research service on Seeking Alpha.
Firm Model Portfolio (Open positions):
For subscribers of premium research service only
Existing Watch-list
For subscribers of premium research service only
Classification of open positions in different tiers and conviction buy list:
For subscribers of premium research service only
Note: To get more investment ideas like this as soon as they are published, click on my profile and hit the big orange "Follow" button and choose the real-time alerts option.
Free 30-day trial for our Premium Investment Research Service:
Get more investment ideas like this by subscribing to Vasuda Healthcare Analytics, our premium equity research service (listed in SA Marketplace, in partnership with Seeking Alpha). Subscribers have earlier access to the research reports, can download the valuation models/ spreadsheets in the research reports and have access to the portfolio (40 open positions so far with price targets, conviction buy list and suggested portfolio allocation) and a conviction buy list. Few investment ideas are exclusively limited to subscribers (recent subscriber-only research reports with DCF valuation include Editas medicine, Intracellular Therapies, Novavax, Inotek Pharmaceuticals and Medgenics). Free 30-day trial is available to test drive the service (only few more spots left for free trial).
Additional disclosure: This article represents my own opinion and is not a substitute for professional investment advice. It does not represent solicitation to buy or sell any security. Investors should do their own research and consult their financial advisor before making any investment.