The key news of the day was Editas medicine (NASDAQ:EDIT) winning the patent dispute against Intellia (NASDAQ:NTLA). Shares of Editas medicine were up 28% while shares of Intellia and Crispr Therapeutics (NASDAQ:CRSP) dropped. We sold our Intellia holdings in Vasuda healthcare analytics and have kept Editas since the patent for CRISPT/Cpf1 was awarded to Editas. We belive that CRISPR/Cpf1 is a more potent and safer genomic editing technology than CRISPR/Cas9. The patent ruling could still be appealed but till then, stay tuned.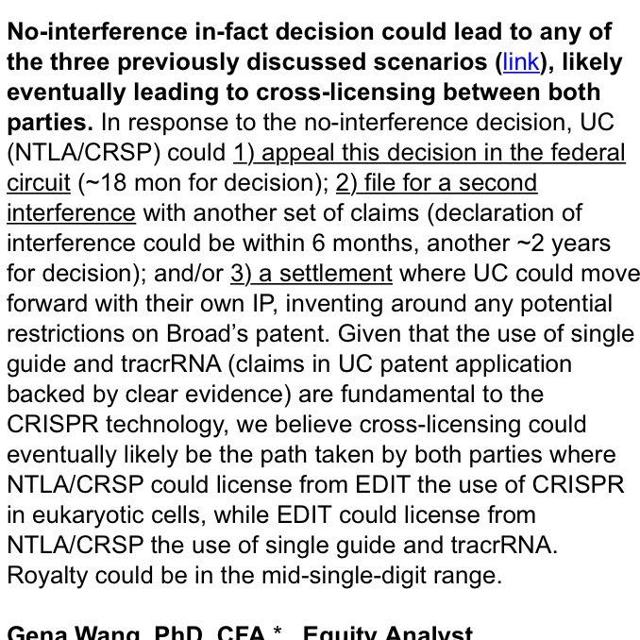 (Jefferies take on CRISPR patent ruling, source: twitter)
Note: To get more investment ideas like this as soon as they are published, click on my profile and hit the big orange "Follow" button and choose thereal-time alerts option.
Premium Research Service
Get more investment ideas like this by subscribing to Vasuda HealthcareAnalytics, our premium equity research service (listed in Seeking Alpha'sMarketplace). Subscribers have earlier access to the research reports, candownload the valuation models/spreadsheets, have access to the modelportfolio (with price targets and suggested allocation), conviction buy list (30 companies), a contrarian portfolio and a subscriber-only chat room. Free two-week trial to the service is available for a limited time only (limited to 25 free trial spots only). Link to subscribe.
Our open position, Radius Health (NASDAQ:RDUS) was up today after rumors of takeover interest from Shire (NASDAQ:SHPG). Read our analysis on Radius Health here.
Novavax (NASDAQ:NVAX) announced that it will start a mid-stage study of its RSV vaccine candidate, Shares were up 18%.
Evoke Pharma (NASDAQ:EVOK) was up 60% after announcing that FDA will not require it to conduct a human factors study support NDA filing for Gimoto to treat diabetic gastroparesis.
Ardelyx (NASDAQ:ARDX) announced successful results from a phase 3 clinical trial to treat hyperphosphatemia in end-stage kidney disease. Howver, 395 patients had diarrhea with 7.8% discontinuations. Another phase 3 study is planned.
Zosano (NASDAQ:ZSAN) stock continued to rip higher (up more than 40% today). It could be taken over like Colucid.
Insider buying seen in nanocap Amarillo Biosciences (OTCPK:AMAR) by CEO.
Insider selling seen in Fibrogen (NASDAQ:FGEN) by CEO, Invitae (NYSE:NVTA) by some C-suite executives, Orasure Technologies (NASDAQ:OSUR), and Vertex (NASDAQ:VRTX).
Disclosure
This article represents my own opinion and is not a substitute for professional investment advice. It does not represent solicitation to buy or sell any security. Investors should do their own research and consult their financial adviser before making any investment.
Disclosure: I am/we are long ZSAN, RDUS, NVTA , EDIT, NVAX.