2-week free trial offer is open for a limited time only.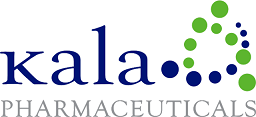 Recent IPO, Kala Pharmaceuticals (KALA) is developing novel treatments for eye diseases using MPP technology for the target delivery of drugs. It also plans to use the technology for reproductive health, gastrointestinal and respiratory diseases etc. It is based in Waltham, MA. An MIT professor is listed as a co-founder. The IPO was priced at $15/share.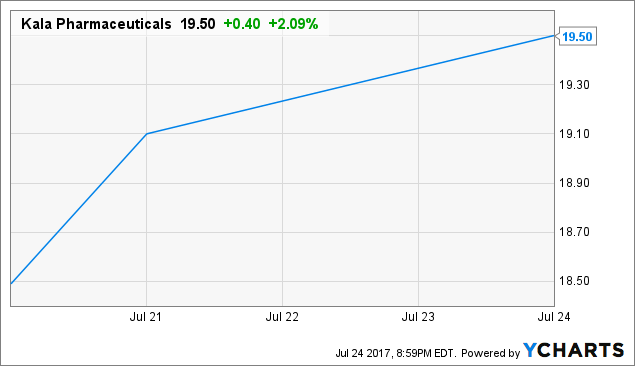 MPP Technology:
Mucus Penetrating Particles or MPPs are selectively sized nanoparticles with proprietary non-covalent coatings. This technology allows even distribution of drug particles on mucus (which acts as a barrier) and enhances drug penetration. The technology may thus allow to reduce the frequency of dosing, increase efficacy and increase patient satisfaction.
Opthalmology pipeline:
The company is mainly focused on two eye problems:-
 Dry eye disease: - MPP technology may help to give temporary relief from sign and symptoms of this disease.
Ocular surgery: - This technology may help in the treatment of post operative inflammation and pain gain from this surgery. This is a common type of surgery in US.
Currently, loteprednol etabonate, LE is used to treat these two eye diseases but is not nanoparticle coated. Patients have to take the drug 4 times daily.
The solution:
 Kala has prepared a nanosuspension of LE using MPPs technology known as KPI-121. The two formulations of KPI-121 for treating these two diseases are as follows:-
KPI-121 1.0% for the treatment of inflammation and pain following ocular surgery
KPI-121 0.25% for the temporary relief of the signs and symptoms of dry eye disease: 
KPI-121 1.0% And KPI-121 0.25% Pipeline Overview:-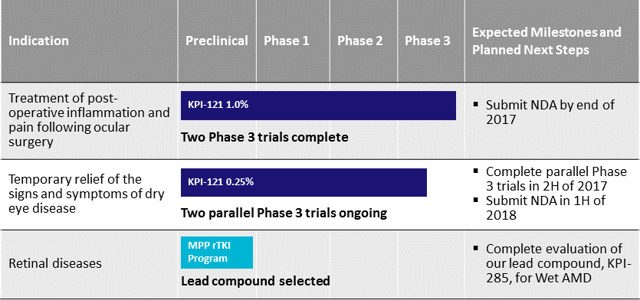 KPI-121 1.0% in ocular inflammation after cataract surgery: In 2016, there were 7.7 million eye surgeries in the US. Two successful phase 3 trials have been completed. In second phase 3 clinical trial, the primary efficacy end-point of complete resolution of anterior chamber cells (a marker of ocular inflammation) on the eighth day was achieved successfully in 520 patients following cataract surgery (drug was used twice daily). No rescue medication was needed at the end or during of the clinical trial. NDA is planned to be submitted by end of 2017. NDA acceptance could start a run-up in the stock price. 
KPI-121 0.25% in dry eye disease: It affects about 33 million people in the US. A phase 2 trial in 150 patients achieved statistical significance for the primary clinical sign endpoint of bulbar conjunctival hyperemia at day 29, but did not did not achieve statistical significance for the primary symptom endpoint of ocular discomfort, and other symptom endpoints, particularly in patients with more severe baseline ocular discomfort. Two parallel phase 3 trials were started in this indication whose results are expected by the end of 2017. 
Wet AMD: Kala is also planning small molecule receptor tyrosine kinase inhibitor (RTKi) program as a potential topical treatment for wet age-related macular degeneration, AMD.
IP: Various patents for MPP technology extend till at least 2027 and till 2033 for the product candidates. 
Management: 
Chairman/CEO, Mark Iwicki: He served as President/CEO 
at Civitas Therapeutics, Blend Therapeutics, and Sunovion Pharmaceuticals. He was also VP and Business Unit Head at Novartis (NVS).
President/Chief Business Officer, Charlie McDermott: He served as the Director and VP, Business Development, Eye Care and Drug Delivery at Allergan (AGN).
Chief Medical Officer, Kim Brazzell: He served as Chief Medical Officer of Mimetogen Pharmaceuticals, and Global Head of Clinical R&D/Senior VP, U.S. R&D, at Novartis Ophthalmics (NVS).
Michele LaRussa, Senior VP, Regulatory Affairs/Quality Assurance: She served as Global Head of Regulatory Affairs, Dermatology at GlaxoSmithKline (GSK).  
Institutional investors: RA Capital, well known Boston based hedge fund is an early investor in the company and has a Board seat. Other early stage investors include Orbimed, Third Rock Ventures, Polaris Capital, etc.
Insider transactions:  About 10 million of common stock was bought after IPO by an insider, billionaire investor Bruce Kovner. 215,000 shares were bought in the open market while the rest were bought after converting the preferred stock. Bruce Kovner is an American hedge fund manager and Chairman of CAM Capital. he is also the Founder/Chairman of Caxton Associates. His net worth is listed as $5.5 billion. Caxton Associates has $7.7 billion under management. 
Financials: Cash reserves were $36 million as of Q1. Long term debt was $8.1 million (enough till Q2, 2019 per management).
Price target and our rating: available to premium service subscribers.
_________________________________
More noteworthy news:
Cymabay Therapeutics (CBAY): Insider buying worth $75,000 by CEO, and $44,000 by a SVP in a secondary equity offering.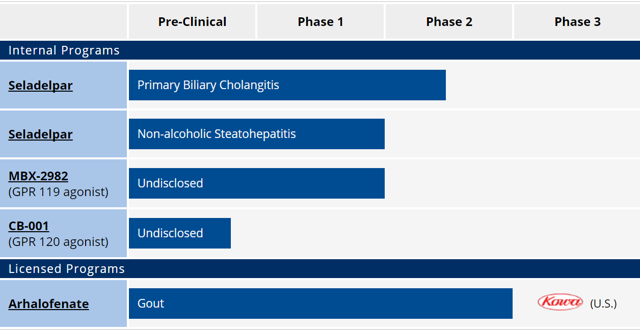 (Cymabay pipeline)
Median sell-side analyst price target is $12 (50% upside potential) from 3 Buy ratings within last 10 days. 
Regulus Therapeutics (RGLS): Stock was bought by Biotechnology Value Fund (13.3% stake). Broadfin Capital, well known institutional investor also reported a long position in the stock (owns 10.6%). The investment seems to be made in a secondary equity offering by the company. The stock is trading at 52-week lows. Phase 1/2 renal biopsy data in Alport's syndrome is expected by the end of 2017. Its oligonucleotide therapy has Orphan drug designation in Alport's syndrome. The stock fell earlier this year after safety concerns were raised in a trial in chronic hepatitis C infection. 
Neuroderm (NDRM) agreed to be acquired for $1.1 billion by Mitsubishi Tanabe. Congrats to our subscribers for 74% quick gain in 7 months!
Analyst initiations:
Concert Pharma (CNCE): HC Wainwright, Buy, PT=$20 (phase 2 data in cystic fibrosis in end of 2017), 25% upside potential.
AzureRx Pharma (AZRX): HC Wainwright, Buy, PT=$8 (phase 2 data in exocrine pancreatic insufficiency in Q3, 2017), 90% upside potential.
Dova Pharmaceuticals (DOVA): Jefferies, Buy, PT=$30 (34% upside potential).
Aileron Pharmaceuticals (ALRN): Jefferies, Buy, PT=$20 (phase 2a interim data PTCL, H1 2018), 58% upside potential. 
Mersana (MRSN): Leerink, Buy, PT=$23; Wedbush, Buy, PT=$25 (phase 1 safety data in breast cancer due 2017), 66% upside potential. 
- Bhavneesh Sharma, MD, MBA
Founder and Editor, Vasuda Healthcare Analytics
and the rest of Vasuda Healthcare Analytics Team
_________________________________________________
Note: To get more investment ideas like this as soon as they are published, click on my profile and hit the big orange "Follow" button and choose the real-time alerts option.
Premium Research Service
Get exclusive investment ideas by subscribing to Vasuda Healthcare Analytics, our premium equity research service (second-most subscribed biotech/pharma focused investment research service on Seeking Alpha's Marketplace in less than a year, subscribers include hedge fund and mutual fund managers, sell-side research analysts, financial advisors, etc.). Subscribers have exclusive access to our list of top picks for 2017, the research reports, regular portfolio updates, have access to a momentum portfolio (with price targets and suggested allocation), a contrarian portfolio and a subscriber-only active chat room with momentum trade ideas and options trade ideas. Link to subscribe
Our picks are outperforming our benchmark, XLV since inception. 
2-week free trial offer is open for a limited time only.
Disclosure: Investing in biotechnology and pharmaceutical stocks is risky and requires a well-diversified portfolio. This article is published for information purpose only. This article represents my own opinion and is not a substitute for professional investment advice. It does not represent a solicitation to buy or sell any security. Investors should do their own research and consult their financial adviser before making any investment.
Disclosure: I am/we are long KALA, CNCE, AZRX, DOVA.
Additional disclosure: I am/we are long KALA, CNCE, AZRX, DOVA, ALRN.