Spring Bank Pharmaceuticals (SBPH) is a Milford, MA based which IPOd on NASDAQ in mid-2016.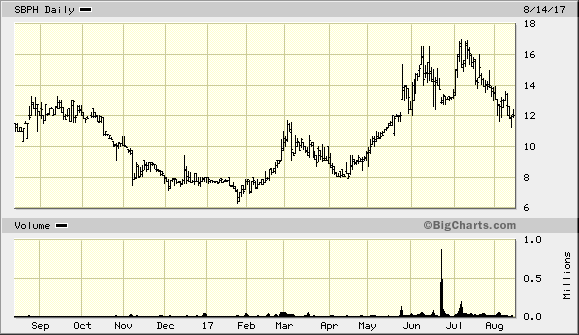 It is developing small molecule nucleic acid hybrid or SMNH compounds. These compounds are small segments of nucleic acids that selectively target and modulate the activity of specific proteins in various diseases.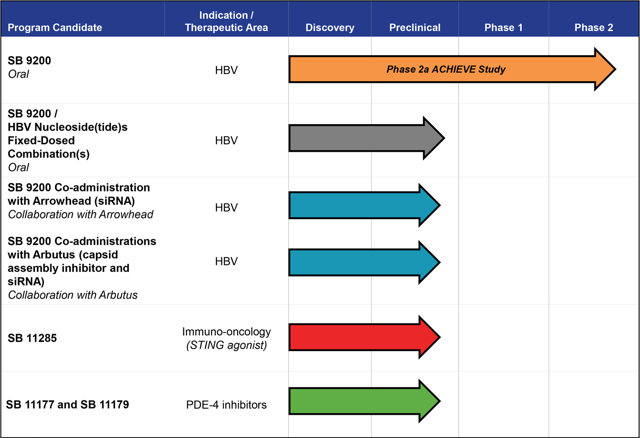 (Spring Bank Pharmaceuticals: R&D pipeline)
The company is developing its most advanced SMNH product candidate, SB 9200, for the treatment of viral diseases, including hepatitis B virus, HBV. HBV affects about 17 million people in the US and Canada and about 257 million people globally. Current therapies for HBV do not achieve a cure but still had $2.6 billion in 2016 sales. SB 9200 has the potential to cure HBV by targeting the clearance of HBsAg. SB 9200 has already been tested in a phase 1 trial in which no immunogenicity was seen. 
SMNH compounds act directly on proteins (unlike RNA interference), for example, SB 9200 binds selectively RIG-I and NOD2 and upregulates them. Its action on RIG-1 inhibits viral replication while its action on RIG-1 promotes viral clearance. It can also be used in combination with current ani-HBV therapies. 

Results of the initial cohort of 20 patients in the Phase 2a portion of ACHIEVE study (as a monotherapy 25 mg daily for 12 weeks) showed a statistically significant reduction in HBV DNA (p=0.01). 31% patients in SB 9200 treatment group had >0.5 log₁₀ reduction in HBsAg at any time point. The therapeutic effect was more pronounced in HBeAg negative patients. The treatment was safe and well tolerated. Results of the 50 mg daily monotherapy cohort of phase 2a trial are expected in Q4, 2017. Full results of the monotherapy phase 2a portion of the trial are expected in the first half of 2018. The phase 2b portion of the trial could also include a combination arm with Viread, an approved HBV medication. 
SB 9200 is also being evaluated as a combination with other novel HBV therapies in development, for example, preclinical studies are ongoing in combination with Arbutus Pharma's (ABUS) capsid assembly inhibitor and siRNA compound. Last month, it also announced a collaboration with Gilead to combine SB 9200 with Gilead's Vemlidy in chronic HBV patients. 
In addition, the company also has a portfolio of SMNH derived STING agonists which are highly potent and have shown anti-tumor activity in preclinical models of colon and breast cancer. 

CEO Martin Driscoll served as the CEO of Asmacure Ltée (acquired by a private Canadian life sciences company in July 2015). He was also the CEO of Javelin Pharmaceuticals (merged with Hospira). He also served in various leadership roles at Schering-Plough, ViroPharma, etc. Chief Scientific Officer and founder Kris Iyer, PhD was the co-founder and VP of Discovery of Origenix Technologies. He was also a Senior Scientist and Associate Director of the Discovery Group at Hybridon (now Idera Pharmaceuticals). He has authored over 100 scientific papers and several books on organic synthesis and holds more than 100 patents and patent applications. Chief Medical Officer, Nezam Afdhal, MD is a Senior Physician in Hepatology at Beth Israel Deaconess Medical Center in Boston, MA and Professor of Medicine at Harvard Medical School. His research focuses on liver disease including HBV. He has published more than 200 scientific papers as well as 30 book chapters and two books. 
Cash reserves were $56M at the end of Q2'17. It has $12M in warrant liabilities. Net operating cash burn was $8.7M in H1'17. The company raised $42.5 million in a secondary offering in June 2017 and expects that it is well funded till the end of 2019. The stock is held by several prominent institutions including Baker Brothers. Biotechnology Value Fund, a $212M AUM fund bought 304K shares last week (owns 2.4% stake). Insider transactions have been positive over last 3 and 6 months. Last month, Cantor Fitzgerald analyst started coverage on the stock with a Buy rating and price target=$29. Other recent Buy ratings on the stock include Chardan Capital (PT=$34). 
Should you buy/hold/sell this stock? Take a free trial of premium service to know more...
Recent ideas in premium service.
Insmed, Buy/Hold/Sell Before Phase 3 Data In Late September?
Updated Investment Thesis After Zynerba's Phase 2 Results Of ZYN-002 In Osteoarthritis
Akcea Therapeutics: Recent IPO
An Options Trade For Playing Upcoming Adamas PDUFA On August 24
Esperion: Buy/Hold Or Sell: The stock popped 20% yesterday on successful phase 2 data of bempedoic acid in hypercholesterolemia.
2 Options Trades In Axovant And Sage Therapeutics Ahead Of Upcoming Data Releases: Axovant and Sage Therapeutics are due to release key phase 3 data before the end of this quarter. The stocks could move 50% or more on data.

More Than 80% Gain In Myokardia, What To Do Next? Should you buy/hold or sell?
Learn more by taking a no-obligation 2-weeks trial to Vasuda Healthcare Analytics, our premium research service. The trade alert can be accessed using the search feature of the premium service chat. 

________________________________________________________

Note: To get more investment ideas like this as soon as they are published, click on my profile and hit the big orange "Follow" button and choose the real-time alerts option.
Premium Research Service
A two-week trial is still open. Link to subscribe.

_______________________________________________________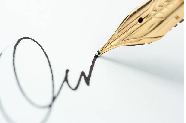 - Bhavneesh Sharma, MBBS, MD, MBA
Founder and Editor, Vasuda Healthcare Analytics
and the rest of Vasuda Healthcare Analytics Team
Disclosures: This article is published for information purpose only. This article represents my own opinion and is not a substitute for professional investment advice. It does not represent a solicitation to buy or sell any security. Investors should do their own research and consult their financial advisor.