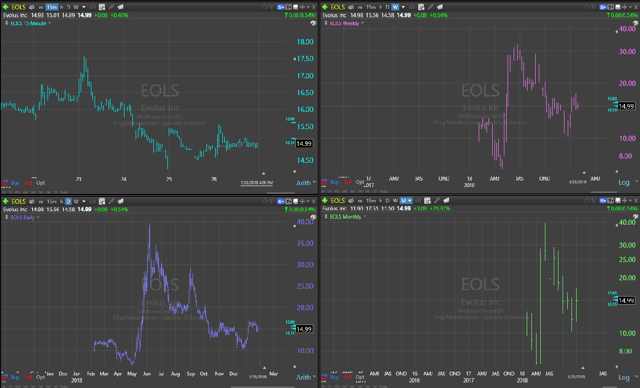 (Evolus: multi-timeframe price chart: from TC2000)
I discuss a way to play this event both for short-term and long-term investors.
Investment thesis:
PDUFA for Evolus Inc's (EOLS) EWP-50 (now given the brand name Jeuveau), aesthetic neurotoxin is scheduled on February 2 (it is a Saturday, so the approval could be announced on Friday). The clinical indication in question is the treatment of moderate to severe glabellar lines. It showed superiority over placebo in two phase 3 U.S. based trials (meeting FDA requirement).
The unique selling propositions are:
1. The management plans to develop it only in the aesthetic uses (the first indication is glabellar frown lines) and thinks that they can price it lower than that charged by market leader Allergan for Botox (since they do not have the pressure to keep the ASP up).
2. The parent company of Evolus has over 200 physician KOLs in the field of medical aesthetics who have an incentive to switch to DWP-50 in their practice for aesthetic purpose after its approval.
3. Allergan's former Head of Aesthetics (in charge of BOTOX) David Moatazed joined Evolus as its CEO. He has extensive experience in commercialization of Botox.
4. Insiders showed confidence by buying approx. $4 million of the common stock in November and December 2018.
5. A shot at gaining market share from Botox in a large global, growing aesthetics market.
Global self-pay aesthetic neurotoxin market size is $1.8 billion/year (2017), and is expected to grow to $2.3 billion in 2020 (10% per year). The U.S. self-pay aesthetic neurotoxin market size is $941 million (2017) and is expected to grow to $1.2 billion in 2020. Allergan's Botox is the leader in this segment and its 2016 global sales were $729M (44% of these are for the aesthetic purpose). Global Botox's sales from the aesthetic segment are expected at $470M in 2020.
Options analysis:
Reserved for Marketplace subscribers. Free two-week trial available for a limited time.
Strategy, how we are going to play this event and profit from it:
Reserved for Marketplace subscribers. Free two-week trial available for a limited time.
This article represents my own opinion and is not a substitute for professional investment advice. It does not represent a solicitation to buy or sell any security. Investors should do their own research and consult their financial adviser before making any investment.
My position disclosure is given in the marketplace premium article. 
Disclosure: I wrote this article myself, and it expresses my own opinions. I am not receiving compensation for it. I have no business relationship with any company whose stock is mentioned in this article.
"Great service with in depth research on biotech stocks. I appreciate that Dr. Sharma will take the time to review and publish reports/updates on stocks that members request. Biotech investing is very complex and it's great to have someone so knowledgeable guiding us."
"If you want to invest in biotech following events (catalysts), this is the right service for you. His research is based on his knowledge, experience and interview with KOLs."
"Vasuda Healthcare Analytics provides very timely, well-researched investment opportunities that both novice and highly experienced investors may benefit from."