Voyager Therapeutics (VYGR) and Neurocrine Biosciences (NBIX) signed a licensing deal today under which Voyager in-licensed two gene therapy programs from Voyager: targeting Parkinson's disease and Friedrich's ataxia.
 The potential milestone payments to Voyager could be $1.7 billion. The most advanced program for Voyager is their gene therapy in Parkinson's disease. However, the data has been disappointing. Voyager stock went up to above $30+ to below $10 on this disappointing data.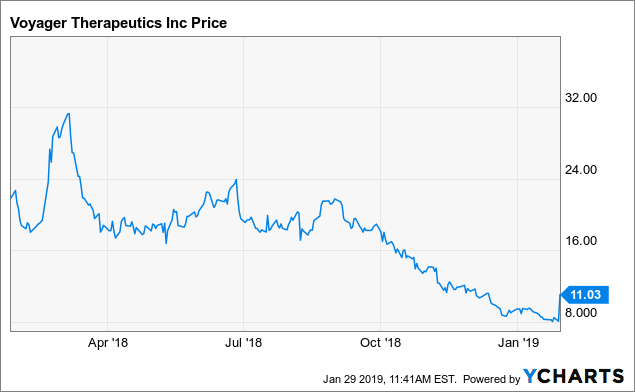 For phase 1b trial for Voyager in Parkinson's gene therapy, mean improvement in ON time without troublesome dyskinesia was 1.7 h/d at 18 months and 2.7h/d at 24 months at highest dose. This was not a placebo-controlled trial. 
Currently for those severe PD patients that Voyager's gene therapy is trying to target, deep brain stimulation, DBS is a preferred treatment option. However, Voyager's gene therapy data is similar to that of the placebo group in the DBS phase 3 trial at the best.  In comparison, in deep brain stimulation trial, the improvement in ON time without troublesome dyskinesia was 4.6 hours/day, much higher than Voyager's Parkinson's gene therapy.  
Neurocrine Biosciences has been burnt by the failure of valbenazine in their recent trial in a large indication of Tourette's syndrome and seems to be trying to expand their pipeline by entering gene therapy, the next hot target. However, Neurocrine has made the wrong choice this time. Voyager's management readily off-loaded their Parkinsons's gene therapy program to Neurocrine at the first chance they got like taking an elephant off their chest.
In addition, as per my phone call with a national level movement disorders expert/neurologist at an academic enter in the U.S. last week, gene therapy for PD does not address all the issues of PD like tremor, dyskinesia, aphasia, etc. which are addressed by deep brain stimulation. Axovant (AXON) has a rival gene therapy program in PD which has the potential to show better data than that shown by Voyager. Their preclinical studies showed 4-5x potency compared to Prosavin, their first generation gene therapy candidate from Oxford Biomedica. 
This transaction is not a 'value transaction', this is a mistake that Neurocrine management made in their attempt to distract investors from the failure of the Tourette's syndrome trial. The 30 pct pop in Voyager stock today is a good opportunity to short the stock. I am/we are short Voyager stock.
Risks: Shorting stocks is highly risky and it is possible to lose the entire capital. The investment is for aggressive investors.  This article represents my own opinion and is not a substitute for professional investment advice. It does not represent a solicitation to buy or sell any security. Investors should do their own research and consult their financial adviser before making any investment. Investing in equities, especially biotech stocks has the risk of significant losses and may not be suitable for all investors. While the sources of information and data in this article have been checked, their accuracy cannot be completely guaranteed. 
I am/we are short VYGR.
Disclosure: I am/we are short VYGR.