.
This is an abridged version of the premium article that was released to the Marketplace Service subscribers earlier today. Subscribe here (free two weeks trial). 
Intercept Pharmaceuticals (ICPT) is expected to release interim data from an ongoing phase 3 REGENERATE trial in February or March. 
(Intercept Pharmaceuticals: multi-timeframe stock price chart, from TC2000),
Obitecholic acid or OCA has bile acid-like properties and circulates enterohepatically. It engages FXR receptors in the liver and intestine. OCA is an analog of bile acid but 100x more potent on FXR receptors.
So what is the data so far, does it work?
The phase 2 FLINT study analyzed 200 paired biopsies. OCA was given at a dose of 25 mg daily for 72 weeks. The pre-defined primary endpoint was a decrease in non-alcoholic fatty liver disease, NAFLD score of at least 2 points from the baseline which was achieved as shown in the figure below.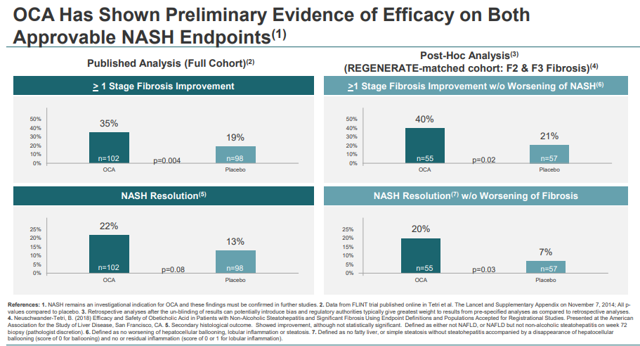 The most significant result in the FLINT was the potent effect of OCA on reducing fibrosis which was shown in 35% patients vs. 19% in placebo, p value of 0.004. The endpoint of NASH resolution was not significant. I have addressed a possible explanation of this phenomenon in my initiation article. One possible explanation why the NASH resolution was not achieved could be the metabolic effects of OCA on lipid profile (slight increase in LDL). There was some criticism of the FLINT trial design, e.g. the biopsies were not read centrally, approx 20% patients had no NASH and the inclusion of NAFLD score more than 4 as the inclusion (more than 5 is better). There were also 2 deaths in the drug arm. Investors had some concern over the higher incidence of pruritus in the drug arm.
FDA has published guidance for companies trying to develop NASH therapies and has finalized two primary endpoints for pivotal NASH/NAFLD trials. These are:
- One stage of more improvement in fibrosis without worsening of NASH
- NASH resolution without worsening of fibrosis.
After the FDA guidance in NASH end-points, Intercept performed a post-hoc analysis of the phase 2 FLINT data. Both of the FDA mandated primary endpoints (which are also the primary endpoints of the ongoing pivotal REGENERATE trial) were achieved (see image given below).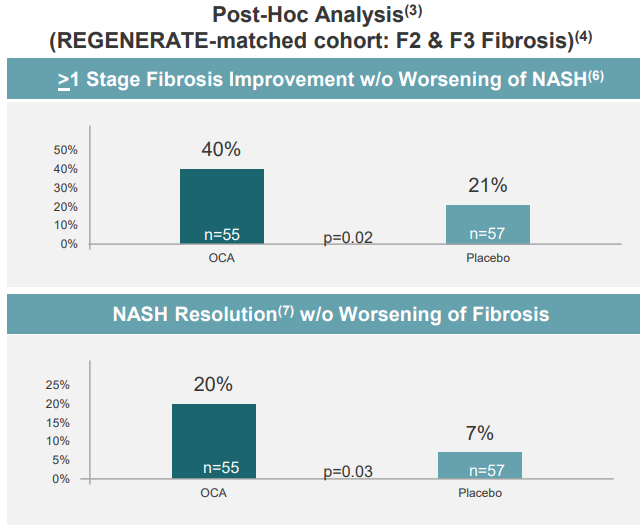 (Post-hoc analysis of FLINT trial)
So, what is going on with the phase 3 REGENERATE trial?
REGENERATE is a large phase 3, randomized, placebo-controlled phase 3 trial with a planned enrollment of more than 2300 subjects. An interim data readout is expected in the first quarter of this year from more than 750 patients which could serve as the basis for a regulatory approval application if successful. Intercept is testing two doses of OCA in this trial, 10 mg/day and 25 mg/day.
The phase 2 FLINT trial mentioned above was done with 25 mg/day OCA. The reason OCA is testing a lower dose of OCA as well (10 mg/day) is to reduce the adverse metabolic effects on lipid profile, glycemic control, etc.
What is my sentiment on Intercept stock? Buy/Sell/Hold? I also discussed two options strategies to benefit from the upcoming REGENERATE interim data with my premium service subscribers. In addition to event-driven ideas like this, we also have a swing trading room for leveraged biotech ETFs like (LABU) and (LABD). 
Disclaimer:
This article represents my own opinion and is not a substitute for professional investment advice. It does not represent a solicitation to buy or sell any security. Investors should do their own research and consult their financial adviser before making any investment. Investing in equities, especially biotech stocks has the risk of significant losses and may not be suitable for all investors. While the sources of information and data in this article have been checked, their accuracy cannot be completely guaranteed.
Disclosure: I wrote this article myself, and it expresses my own opinions. I am not receiving compensation for it. I have no business relationship with any company whose stock is mentioned in this article.
My position disclosure regarding ICPT is available only to premium service subscribers. 
Premium service reviews:
"Great service with in depth research on biotech stocks. I appreciate that Dr. Sharma will take the time to review and publish reports/updates on stocks that members request. Biotech investing is very complex and it's great to have someone so knowledgeable guiding us."
"If you want to invest in biotech following events (catalysts), this is the right service for you. His research is based on his knowledge, experience and interview with KOLs."
"Vasuda Healthcare Analytics provides very timely, well-researched investment opportunities that both novice and highly experienced investors may benefit from."