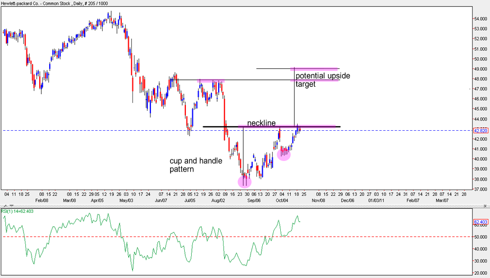 Good day stock market lads! Here's a technical update on the shares of Hewlett-Packard Company (NYSE:
HP
). HP's shares or HPQ as they are traded in the New York Stock Exchange appear to be bound for a move north after declining to a low of just below $38.00 during the last week of August. After finding some support at the $38.00 level, it then rallied and moved on to form whats appears to be a cup and handle pattern. As some of you might know, such formation usually indicates a likely bullish reversal. Therefore, if and when HPQ is able to make a move past the neckline around $43.00, HP's shares would more likely hit $48.00 or even $49.00. A failure to break the necline, on the other hand, could send the company's stocks back to its low at $48.00.
Hewlett-Packard Company, by the way, is a US-based multinational IT corporation. The company specializes in both hardware and software computer development and manufacturing. Its line of products include personal computers and notebooks. In August 6, its CEO, Mark Hurd, resigned from his office amid claim of sexual harassment by actress Jodie Fisher. While he was not found guilty of the said claim, several expense-irregularities were found during the company's investigation. His resignation then led to a broad-based selling of the stock (represented by the long red candle on August 6).
More on
LaidTrades.com
...
Disclosure:
No positions