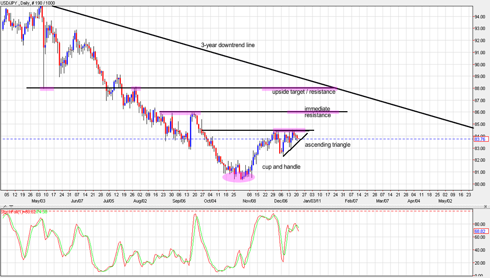 So after being routed by Japanese yen for the last three years, it seems like the US dollar's recent rally will extend at least in the near term. Earlier today, the Bank of Japan, which is headed by Governor Masaaki Shirakawa, decided to keep its interest rate unchanged for the foreseeable future to encourage spending. Japan's core consumer price index, which measures the change in the price of goods and services consumed minus the price of fresh food, remains stuck at -0.6%. A decrease in prices suggests that overall consumption in the country is very weak. So to support growth, keeping interest rates at a very low level will jump start lending and spending. The BOJ aims to keep the rates at this level until the CPI reaches 0.1% hopefully by next year. Doing so, of course, would be bearish for the yen since it would make investments in Japan less attractive. Such would in effect encourage investors to source their funds in Japan because of the country's low borrowing costs and place it somewhere else.
Technically, it appears that the USDJPY pair about to breakout from a cup and handle formation. In the chart, the cup's handle would be the ascending triangle patter that I marked. A break above the formation's neckline would swing the USDJPY towards a temporary target of 86.00. A move above this could send the pair higher to around 88.00. But over the longer term, the bias remains to be bearish for the USD and bullish for the Japanese yen given the pair's overall downtrend.

More on LaidTrades.com ...
Disclosure:
I have no positions in any stocks mentioned, and no plans to initiate any positions within the next 72 hours.