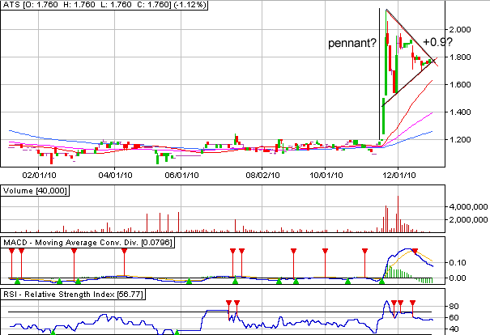 On December 6, Aboitiz Equity Ventures or AEV in the Philippine Stock Exchange disclosed that it would push through with the sale of its transport unit, Aboitiz Transport System (ATS) to Negros Navigation Co. (Nenaco). Aboitiz Equity Ventures is selling 1,889,489,607 common shares, representing 77.24% of ATS' outstanding common shares. The proceed of which will be used by AEV to finance new investments in power, food, and banking. As previously mentioned, the purchase price for 100% of ATS's outstanding common shares is $105 million, approximately equivalent to $0.043 per share. This would then translate to PHP 1.8920 per share at PHP 44.00 per 1 USD. So presently, the shares of ATS is still trading at a 7.50% discount, assuming an exchange rate of PHP 44.00 to a dollar,  given last Thursday's close of PHP 1.7600 per share.
From a technical perspective, the shares of ATS have exploded from PHP 1.200 last November 18 to a high of PHP 2.14 on November 22. Since then, ATS, however, has consolidated in to what looks to be a pennant formation. A breakout from this pattern could send it at least back to its previous high at 2.14 or even to as high as 2.70 if the height of the pole of the pennant is projected upwards. But before anyone of you buys, it's better to wait for a breakout which is confirmed by an increase in volume.

More on LaidTrades.com ...
Disclosure:
I have no positions in any stocks mentioned, and no plans to initiate any positions within the next 72 hours.