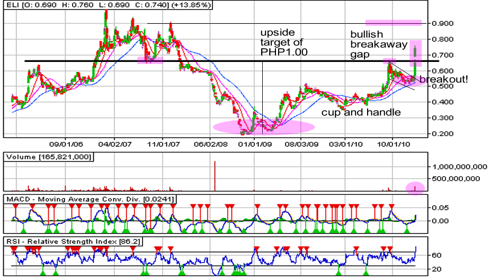 On January 13, Andrew Tan-led Empire East Land Holdings, Inc. (
ELI
), a property firm that was spun off from Megaworld Corporation (
MEG
) in 1994 since it caters to the middle income market, jumped by another 13.85% from an opening of
PHP
0.69 to PHP 0.74. The other day, we saw it soaring by 14.04% from PHP 0.57 to PHP 0.65. So what's behind ELI's sudden move?
Based on ELI's daily chart, you can see that it was able to break free from the 'handle' of a rather disfigured cup and handle pattern the other day. The 'handle' in this case is the most recent descending channel formation. So after moving above the said channel, ELI leaped but remained stuck below the historical resistance at around PHP 0.65 which coincidentally was also the neckline or the cusp of the cup. Buying interest continued the following day, causing ELI to punch through and above the cusp of the cup. This recent price action is even more bullish because of the positive gap that it made. This spike in buying interest as evidenced by increase in volume could more often than not sustain a run up. Historically speaking, a breakaway gap is also usually followed by another gap or two. Hmmm…
Anyway, ELI could be on its way to PHP 1.00 (gauged by projecting the height of the cup and handle pattern from the point of breakout). However, it could hit a temporary snag at PHP 0.90. Nonetheless, this stock presents a good and handsome upside which is at least backed by sound technical signals.
More on
LaidTrades.com
...
Disclosure:
I have no positions in any stocks mentioned, and no plans to initiate any positions within the next 72 hours.