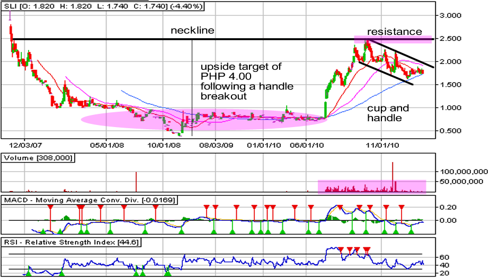 Those who subscribed in Sta. Lucia Land's (NYSEMKT:
SLI
) initial public offering back in 2007 must have been very disappointed after seeing the price of their stock gradually fall from PHP 1.80 to a low of PHP 0.38 in 2009. After bottoming in 2009, SLI continued to trade flat and sideways until finally waking up in July 28, 2010 when it rose by 42.31% from PHP 0.80 to P 1.11. Investor participation gained momentum from then on as can be seen by the increase in volume highlighted in the chart. From July of last year, SLI had risen to a high of PHP 2.50 in a little over 2 months before it started to weaken again. From October 2010 to present, SLI has been trading within a descending channel. Bias is usually negative given this price action but given the larger picture, it appears that good things are ahead for Sta. Lucia.
As you can see, SLI has formed a cup and handle pattern over the duration of its listing in the exchange. Even if it is presently trading within a descending channel, the blue moving average looks to be keeping it from falling any further. In the event a channel breakout, which is accompanied by a spike in volume, occurs, SLI could spring toward the uncharted territories. A crossing of the MACD over the zero line would further validate the breakout. Its upside target, therefore, following a breakout would be around PHP 4.00. However, it could still encounter some resistance at PHP 2.50 on its way up. As mentioned, volume has thickened since July of last year. This could be an indication that the 'big boys' have been accumulating SLI's shares.
Fundamentally, Sta. Lucia Land disclosed in October last year its plan to build 6 new projects in Davao, Cavite, and Cainta. The Mesilo Residences, which is a joint venture with the Enriles' Jaka Properties, will rise on a 150-hectare land in Trece Martires, Cavite. Another development, Sugarland Residential Estates, which is a joint venture with Highpoint Property Group, will also rise in the same area. Nearby at Alfonso Cavite, the Luxurre Residences will also be built. In Davao, a high end residential subdivision named South Grove will arise on a 17-hectare property owned by JS Gaizano. In the Metro, East Bel Air Residences and Sta. Lucia City will likewise be erected along Imelda Avenue in Cainta and Libis, respectively. Once these projects gain foothold, SLI's shares should rise as well.

More on LaidTrades.com ...
Disclosure:
I have no positions in any stocks mentioned, but may initiate a long position in
SLI
over the next 72 hours.