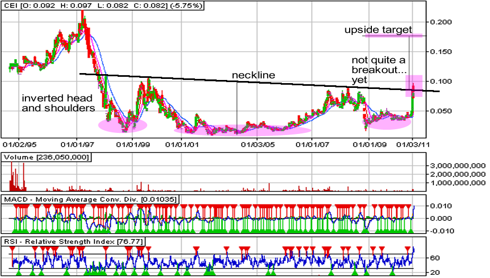 Crown Equities, Inc. or
CEI
in the Philippine Stock Exchange, which is an investment holding firm that is engaged in developing commercial, industrial, and residential properties, has been trading relatively well for the last two weeks or so as we saw it rise from
PHP
0.050 in January 3 to a high of PHP 0.097 last Friday (January 14). CEI started trading strong last Friday when it quickly leaped by more than 9% right after the opening bell. Buyers, however, were caught off guard when it suddenly lost its gains for the day and even sunk down to PHP 0.082. The question now is, will it be able to rally and even start a new uptrend following Friday's bull trap?
I'd say that CEI could still bounce back and regain the lead between the bulls and the bears. CEI's rise since the start of the year has been accompanied by a pick up in volume. This is positive in the sense that the increase in its price is indeed supported by a consequent increase in demand. Over the long term, CEI's movement was pretty dormant for the past 12 years. The good thing here is that in its more than 12 years of hibernation, CEI has been sculpting in what appears to be a huge (in terms of its height and duration) inverted head and shoulders pattern. Last Friday, CEI attempted to breakout from this pattern. For awhile there I though that it already did but unfortunately the neckline's gravity was able to pull it back to Earth.
For those who are already long on CEI, the next few days will be crucial. CEI could weaken further given its overbought conditions. Therefore, if the stock falls again I suggest you start hitting your stop loss and just enter when there is already a valid breakout. On the flip side, CEI could rally back and once again take another shot at a breakout. A valid breakout or a close above the inverted head and shoulders' neckline would prove rewarding, giving you a potential upside target of PHP 0.177 following a successful move above PHP 0.086.
More on
LaidTrades.com
...