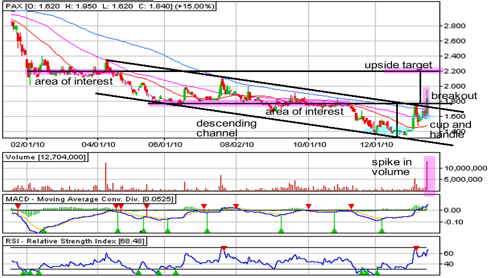 Paxys, Inc. or
PAX
in the Philippine Stock Exchange is a firm that is engaged in the business process outsourcing (NYSE:
BPO
) industry within the Asia Pacific. It deals with a wide range of services in BPO such as contact center, data conversion, salary packaging, and software solutions. One of its better known subsidiaries at least in the Philippines is Advance Contact Solutions. Industry-wise, the Philippines' BPO sector has been expanding on a fast pace due to the sufficient amount of quality Filipino BPO workforce. It is estimated that the country's BPO sector has been growing by 25% a year for the past several years and is expected to grow by the same in the years to come. At present, the industry is already worth around $7.5 billion which is equivalent to about 2.5% of the country's gross domestic product (NYSEMKT:
GDP
). Expansion in the industry due to further foreign cost optimization and additional investments in BPO  structures, therefore, should and would in turn benefit its players like PAX.
Apparently, the 25% growth in the industry at least for 2010 did not reflect in PAX's shares as they just continued to skid on a downward slope after peaking back in August 2009. In fact, PAX has traded within a descending channel and below its three moving averages since February 1 of last year. It was only today, when it finally breached the resistance of the descending channel and moved above the three moving averages after breaking out from a small cup and handle pattern. The recent breakout from the descending channel and cup and handle looks to be valid given the spike in volume. Hence, if buying interest remains, PAX could aim for its upside target of PHP 2.20.
More on
LaidTrades.com
...