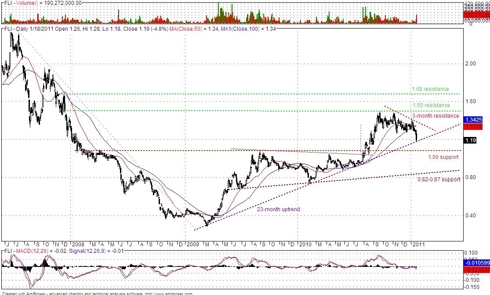 In June 2010,
Filinvest Land Inc.
was my
Philippine stock pick
. During that moment, I mentioned that there was an
ascending triangle pattern
forming and upon breakout, the stocks could reach a target price of
PHP
1.33 as for my technical analysis (kindly check it
here
). I was kinda iffy of my "conservative" target price since some people were saying the stocks were no good and were bearish. But yeah, I had to get over other people's emotions so I stuck to my analysis. As what the big boys say on trading, "you first need to trust yourself before you trust your analysis". When FLI broke out, I posted this once again in August of 2010 (kindly check
here
) and mentioned that if the momentum of the triangle's breakout pushes the stocks upward,  PHP 1.33 will easily be at its door. It did and without a sweat,  my target price was reached and surpassed. A 2-year high of PHP 1.50 was made. It may not have overly performed like JG Summit (
JGS
) and DMCI Holdings (
DMC
) but it still made a 30% profit in 1 month.
Looking at its chart now, after the stocks of Filinvest Land Inc reached PHP 1.50, it began to decline. It's currently at PHP 1.19 just right above its 23-month uptrend. The question now is, will it bounce off or breakdown from the trend? That I don't know and we'll have to see in the following trading days. However, I do know that the stocks are moving below the 50 and 100-period moving averages which may not be good but personally, I'm still with the bulls as long as the uptrend remains intact. If FLI breaks down from the trend and continues to drop, there could be some heavy buying pressure at PHP 1.00 which is both its technical and psychological support. A further drop below that area could lead the stocks to the next support at PHP 0.82-0.87. If it bounces back up, the immediate marker could be the 3-month resistance. The next resistance after that could be PHP 1.50 then off to PHP 1.68.

More on LaidTrades.com ...