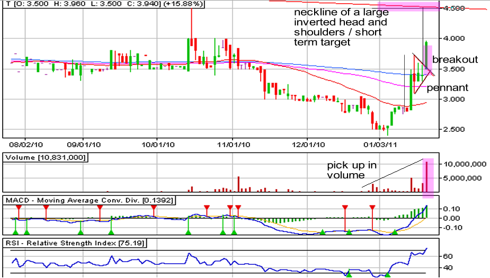 By the looks of it, TKC Steel Corporation or T in the Philippine Stock Exchange, a company engaged in the manufacturing and distribution of various steel products, is on the verge of a major move. As you can see from its chart above, T has recently broken out from a pennant pattern. I would say that breakout is valid given the relative surge in volume in yesterday's (January 19) move. Moreover, the volume since the start of the new year has picked up nicely, suggesting an increasing interest among buyers on the stock. Anyway, yesterday's breakout could send it all the way to PHP 4.50 (gauged by projecting the height of the pennant's pole from the point of breakout). The story does not end there since the PHP 4.50 marker, in case you do not know, is the neckline of a much larger inverted head and shoulders formation.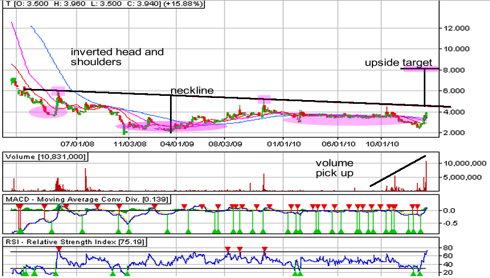 So for the past two and half years, T has hibernated into a long inverted head and shoulders. As mentioned, yesterday's breakout from a recent pennant could send it right at the neckline of the inverted head and shoulder. Now, it would need more buying pressure to breach this neckline because of the duration of its sleep but once it does, the bulls are going to party from then on. Speaking of buying pressure, buying interest as indicated in its volume has picked up significantly for the past 3 months, indicating that there are people who are indeed accumulating the stock. A breakout, by the way, from the inverted head and shoulders could send it towards the PHP 8.00 level.
Fundamentally, TKC Corporation disclosed in October last year that its subsidiary, Treasure Steelworks Corporation (NASDAQ:TSC), was about to do a series of testing regarding the completion of a fully integrated steel mill, the first in the country. TSC acquired and installed two blast furnaces in its factory in Iligan City. Such would improve the company's steel making capability which in turn would reflect in its productivity and profitability. The completion of the mill would likewise allow the company to make use of the locally mined iron ore. And once the series of tests are complete, the company will quickly proceed with the blasting of the furnace. As of now, no formal disclosure regarding the testing has been made public. But given the T's recent movements, it appears that an announcement could be on the deck soon.

More on LaidTrades.com ...