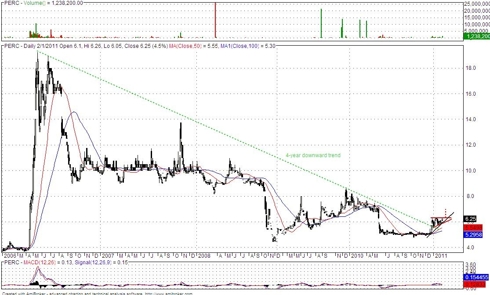 Petroenergy Resources Corporation or 
PERC
as listed in the Philippine Stock Exchange provides specialized technical services to oil-exploring companies in the Philippines. Technical wise, the PERC stocks broke out from its 4-year
downtrend
last December 8 as seen in the image above.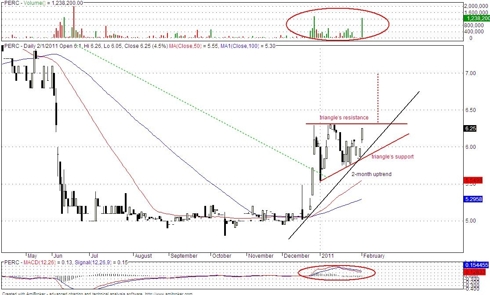 As we zoom closer, there could be a 1-month ascending triangle setting up as well, just right above the broken downtrend. A break above the triangle's resistance could make way for the PHP 7.00 target price which I got by adding the size of the triangle's base to the possible breakout point. At its current price, if it reaches the target, that could be an easy 12% gain! PERC, by the way, is moving above the 50 and 100-period moving averages, the MACD is above 0 and its volume traded daily has been more active recently. With these positive indicators in line along with the bullish looking chart pattern, the stocks could most likely be propelled upward. In case the stocks drop, the 2-month uptrend could be the immediate support. Then the next marker is the ascending triangle's support.
On the side note, Petroenergy Resources Corporation is currently working on its geothermal produce in southern Luzon and is preparing to begin drilling at an oil well in San Isidro Leyte that covers 332,000 hectares over the East Visayas basin. Drilling is set to start on March 2011 with an estimated 12 million to 263 million oil barrels to be found on the site. Partners for the Leyte project include listed companies Alcorn Gold Resources Corporation (APM), Energy Development Corporation (EDC) and Trans-Asia Oil and Energy Development Corporation (TA). With oil prices soaring higher because of the political turmoil in Egypt, PERC would most likely benefit from it.
Just be careful with your trades since the Philippine Stock Exchange Index has broken down from its 2-year ascending channel and could continue to head lower until it finds some support (here's my post when the channel was still intact).

More on LaidTrades.com ...