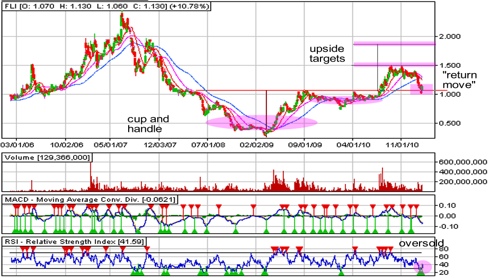 Filinvest Land, Inc. or FLI in the Philippine Stock Exchange did not get the award for the most outstanding stock in 2010. Despite this, it was still able to book some descent amount of gains. In fact, it rose by 45.56% when it opened at PHP 0.90 in January 2010 and closed at PHP 1.31 at the end of the year. Not bad if you ask me. Looking at its chart above, FLI was actually trading sideways during the first half 7 months of the year before it swung higher to break out from a cup and handle formation in August. And in a little more than a month following the breakout, it was able to mark a high at PHP 1.50. However, luck appeared to reverse when it gradually fell to a low of 1.060 yesterday.
Some people were actually asking me if FLI was a good buy at yesterday's levels. My answer was it was not since it already fell and closed below the former neckline of the previous cup and handle which was supposed to act as a support. I mentioned that it first needed to move its head above the neckline in the next few days for me justify a technical buy on the issue. And guess what, the stock proved to be resilient as it was able to move back above the neckline. Yesterday's gain of 10.78% or so was a missed opportunity, I know. But in my opinion, it's always better to play things if the probabilities are on your side. Yesterday, the stock had a higher probability of losing than winning given the technical reason that I mentioned above, notwithstanding the uncertainties surrounding Egypt. And now that the support has held, I could say that it could once again revisit its former high at PHP 1.50 or its upside target of PHP 1.85.
On the fundamental side, the company earlier disclosed its plans to launch new real-estate projects this year that are worth about PHP 13 billion. It said that is is aiming to sell around 14,000 residential units this 2011, almost twice of the 7,300 units last year. It also noted that its sales revenues for 2010 amounted to PHP 10 billion which was 42% better than in 2009. Borrowing costs (housing loans, etc.), is expected to somewhat remain subdued for the rest of the year. In fact, some commercial banks are even lower its interest rate at least for the first year to 5.88%, encouraging more people to purchase real properties. This environment of low interest rates plus the continuing pick up of the Philippine economy and of course the FLI's plans for new projects could really play for the company.

More on LaidTrades.com ...