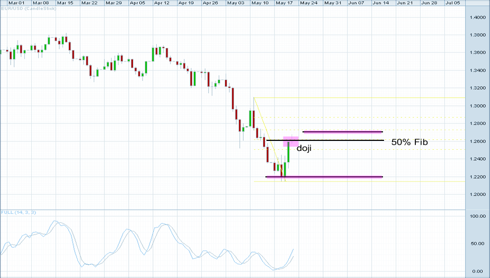 Investors nowadays are so bearish on the EUR that whenever they think about it all that comes to mind is SELL. But guess what?! The euro actually had couple of nice runs these past two days. After marking a new two-year low of 1.21445 last May 18 against the US dollar, the fiber (EURUSD) rose from the dead and rallied back to the 1.2600 region. The pair, though, could find some resistance at the 1.2600 psychological mark since it interestingly falls in line almost perfectly with the 50% Fibonacci retracement level of the recent down-wave. A doji candlestick pattern is present now as well, indicating indecision among investors and could be a sign of a possible reversal soon. The stochastics, however, are still from from the overbought area, suggesting that the pair could still move higher probably at 1.2700 before resuming its move downward. In the event that the euro reverses and falls, the 1.2200 marker would be its likely target in the short term.
On the economic side, the recent climb of the euro can be attributed to the rumors that the Swiss National Bank (SNB) would seek to support the Swissy (CHF). Speculations that the European Central Bank (ECB) would do so as well and intervene in the market to lift the EUR caused a rise in the currency. Some profit taking actions of those who have short positions on the euro likewise could have contributed to the fiber's rally.
Still, there are a lot of uncertainties surrounding the euro zone. US Treasury Secretary Timothy Geithner is set to meet with the German and British finance officials next week to discuss Greece's situation as the recent crisis in Europe poses a grave threat on the global economy. Traders will surely focus on any developments in that meeting. Any proposal to 'save' Greece would surely cause some volatility in the markets. However, chances are the euro could continue its slide given the market's overall bearish sentiment. Even if the ECB decides to support the EUR by flushing out its supply in the market, people would still see through its effect in Europe's economy. Decreasing the EUR's supply would increase its valuation but would hurt EU-member nations' growth.

More on LaidTrades.com ...
Disclosure:
No Positions