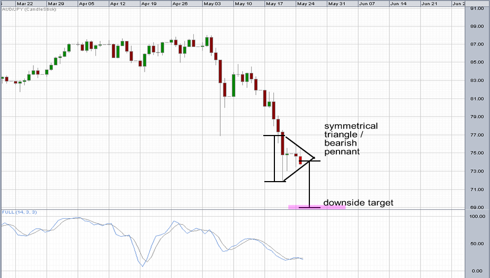 The AUDJPY has been consolidating within a symmetrical triangle or a bearish pennant formation for the last several days. Notice also that the pair is already moving very close to the triangle's apex. This gives me an indication that it is bound to break out either to the upside or downside any time soon. Though, since the price action is coming off a downside, I would say that the pair has a higher chance of breaking down than breaking up. If and when the AUD/JPY pair break's below the pattern's support, it could head all the way down to 69.00. I was able to estimate its downside target by projecting the height of the pattern from the likely point of breakout.
Earlier, Asian stocks and currencies like the Aussie dipped again not because of any developments in the euro zone but because of the new threat from North Korea. Last month, North Korea was involved in the sinking of a South Korean navy ship. Last week, North Korean President Kim Jong Il placed its military under red alert following South Korea's report that it was North Korea which torpedoed the latter's ship.
The market nowadays is already receiving a lot of selling pressure due to the ongoing debt crisis in Europe. The rising political and military tensions in the Korean peninsula only weigh more on the investors' bearish sentiment. If South Korea decides to retaliate by any military measure, such could resume the war between the two nations which was 'temporarily' halted back in the mid-1940s. If that happens, expect most of the anti-dollar currencies to dip and for the yen and the greenback to surge. This scenario, however, would be the worst case as I believe that South Korea together with its allies and the United Nations would rather push for sanctions rather than wage a war. Still, any further threat from North Korea would negatively affect the Australian dollar.

More on LaidTrades.com ...
Disclosure:
No positions