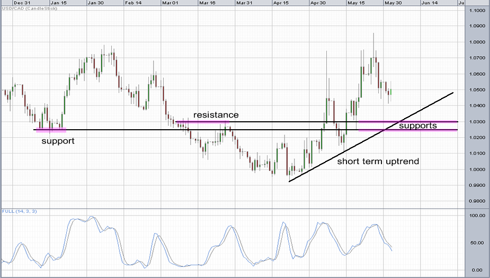 Here is a daily chart of the USDCAD pair. Notice that it has been on a short term uptrend after it bottomed back in April 21. Though, it appears that it has recently encountered some resistance around the 1.0700 area, causing it to turn and to dip for the last several days. With the stochastics far from the oversold region, the USD/CAD pair still has a lot of room to move lower. In case it does, the 1.0300 and 1.0250 supports including the uptrend line that I drew should prevent it from declining any further. A break of these levels could send the Canadian dollar back to USD-parity. On the flip side, if USD buying continues, it could once again reach 1.0700 or even its 2010 high at 1.08548.
The Loonie has gained some favor during the last several days due to Canada's robust economic figures like what I mentioned in my latest blog. The country's annualized 1Q gross domestic product, for one, had exceeded the 5.9% estimate with a 6.1% growth. Both the headline and core CPI of Canada in April came in better than expected at 0.3% Retail sales for March likewise came in strong with the headline figure growing by 2.1% against the 0.2% estimate and the core account also expanding by 1.7% versus the 0.5% forecast. These numbers suggest that the Bank of Canada could indeed raise its interest rate to 0.50% from 0.25% today at 1:00 pm GMT. An interest rate hike would likely send the Loonie higher. A pause, on the other hand, could push the USDCAD back up again.

More on LaidTrades.com ...
Disclosure:
No positions