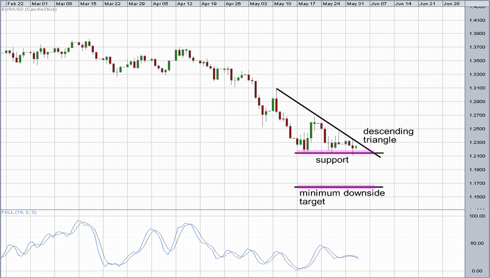 The EURUSD pair or what is commonly known as the fiber among financial geeks is threatening to dip once again. As you can see in its daily chart, the pair has been consolidating into a descending triangle. This formation has a bearish bias since the sellers are more aggressive in pushing the price down. This scene is actually represented by the triangle's downward sloping resistance. Eventually, the sellers could overwhelm the buyers which in turn could cause a breakdown in prices. If and when the pair falls below the formation's support and this year's low at 1.21113, it's minimum downside target (gauged by projecting the height of the triangle from the point of breakout) would be somewhere around 1.1650. On the brighter note, the pair could continue just range or even retrace if the triangle's support holds.
There are several issues going around the globe that are presently weighing down on the euro. For one, concerns regarding the euro zone's weak fiscal condition remain. In fact, the European Central Bank (ECB) even foresees a wave of new defaults that would hurt the banks in the coming year or so adds to the market's fear. Then there is the threat of war between the North and South Korea. Risk aversion could also spring from Japan as its present government faces some strong opposition from the Social Democratic Party and majority of its citizens. Earlier today, it was reported that Japan's prime minister already stepped down from his position. Back stateside, the US is also facing a grave environmental disaster due to a terrible oil spill near the Gulf of Mexico. Given all these problems, risk aversion is surely on track. Such would continue to place a lot of selling pressure on the non-dollar currencies like the EUR.

More on LaidTrades.com ...
Disclosure:
No positions