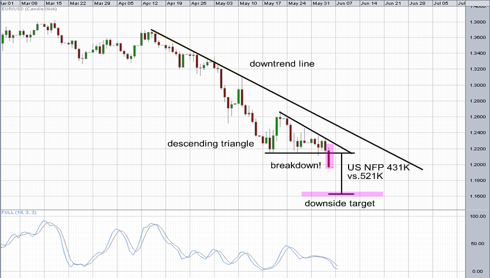 Now don't tell me that I did not warn you. In my last post about the fiber or the EURUSD pair, I pointed to the likelihood of another breakdown. At that time, the pair was already consolidating into a descending triangle. And as I've said, this formation was bearish due to the fact that the sellers were more aggressive in pushing down the prices. The pair was also trading also trading along a medium term downtrend. Last Friday, the pattern's support finally gave way and the price fell from an opening of 1.21786 to close 1.19678. That's more than 200 pips! Now, the euro still has a lot of room to move lower against the greenback since it has not yet reached its minimum downside target which is just above 1.1600 (computed by projecting the height of the pattern from the point of breakout).
The news that triggered the breakdown in prices of the non-dollar currencies were the less-than-stellar US non-farm employment change for the month of May and a threat of a sovereign default by Hungary. In my blog last Friday, I was actually really worried about the outcome of the NFP report. I noted that if the employment change missed its target for the month, such could rock the markets since a strong figure was already anticipated hours ahead of the US session. In short, the market priced-in a robust growth in employment despite the weaker-than-expected ADP employment change. The official non-farm payrolls only tallied 431,000 in May which short of the 521,000 projection.
Another event that further crushed the investors' confidence was the news of a possible sovereign default by Hungary. Hungarian finance officials said that the country's economic situation is 'critical' and that the possibility of a default is not too farfetched. This sparked some concerns among investors that the debt crisis which began in Greece may be spreading across the economic region.
On Monday, expect the EURUSD's price to weaken as soon as the Asian session opens. Remember that the events that transpired (the weak NFP employment change and the default scare of Hungary) are not yet 'priced-in' in the Asian market. Hence, there is even a possibility that the non-dollar currencies like the euro may gap down to begin the week. Moreover, the anticipated 0.4% dip in the German factory orders in April after logging a gain of 5.0% in March could also weigh down on the currency.

So again, the EURUSD could gap down to start this week's session. You heard this first here at LaidTrades.com!

More on LaidTrades.com ...
Disclosure:
No positions